Subaru Crosstrek Service Manual: Wiring diagram
CONTROL SYSTEMS > AT Shift Lock Control System
WIRING DIAGRAM
1. MODEL WITHOUT PUSH BUTTON IGNITION SWITCH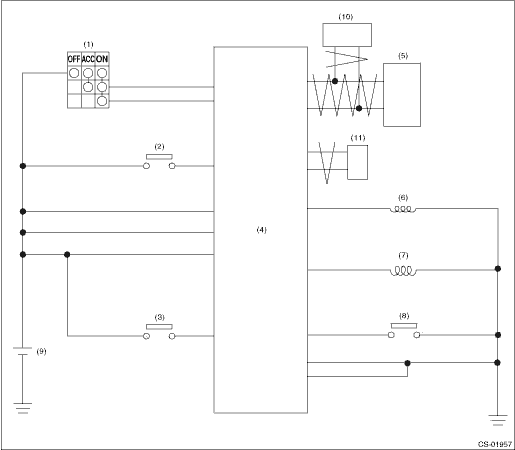 | | | | | | |
| --- | --- | --- | --- | --- | --- |
| (1) | Ignition switch | (5) | TCM (shift range information) | (9) | Battery |
| (2) | Stop light and brake switch | (6) | Key lock solenoid | (10) | ECM (delivery (test) mode signal) |
| (3) | Key warning switch | (7) | Shift lock solenoid | (11) | VDC CM (vehicle speed information) |
| (4) | Body integrated unit | (8) | "P" range switch | | |
2. MODEL WITH PUSH BUTTON IGNITION SWITCH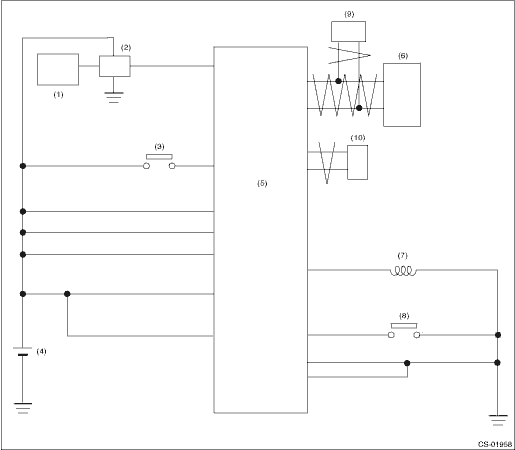 | | | | | | |
| --- | --- | --- | --- | --- | --- |
| (1) | Keyless access CM | (5) | Body integrated unit | (8) | "P" range switch |
| (2) | IG relay 1 (push button start) | (6) | TCM (shift range information) | (9) | ECM (delivery (test) mode signal) |
| (3) | Stop light and brake switch | (7) | Shift lock solenoid | (10) | VDC CM (vehicle speed information) |
| (4) | Battery | | | | |
CONTROL SYSTEMS > AT Shift Lock Control SystemLOCATION1. MODEL WITHOUT PUSH BUTTON IGNITION SWITCH(1)TCM ("P" range)(4)Key cylinder (with built-in key warning switch)(6)"P" ...
Other materials:
Inspection
LIGHTING SYSTEM > Rear Height SensorINSPECTION1. Connect three dry cell batteries (1.5 V) in series.NOTE:• Use new dry-cell batteries.• Using a circuit tester, check that the initial voltage of each dry-cell battery is 1.6 V or more. And also check that the voltage of three batteries ...
Dtc u1120 lost communication with autostart stop control module
LAN SYSTEM (DIAGNOSTICS) > Diagnostic Procedure with Diagnostic Trouble Code (DTC)DTC U1120 LOST COMMUNICATION WITH AUTOSTART STOP CONTROL MODULENOTE:The electric power steering CM identifies whether the Auto Start Stop function is provided or not using information from the combination meter. The ...
Vdc warning light and vdc indicator light do not go off
VEHICLE DYNAMICS CONTROL (VDC) (DIAGNOSTICS) > Warning Light Illumination PatternVDC WARNING LIGHT AND VDC INDICATOR LIGHT DO NOT GO OFFDetecting condition:• Defective combination meter• Defective engine• Defective CAN communicationTrouble symptom:VDC warning light and VDC indic ...
© 2016-2022 Copyright www.sucross.com