Subaru Crosstrek Service Manual: Removal
EMISSION CONTROL (AUX. EMISSION CONTROL DEVICES)(H4DO) > PCV Hose
REMOVAL
Do not remove except when the PCV hose is broken.
1. Disconnect the PCV hose A from the intake manifold and the PCV valve, and then remove the PCV hose A.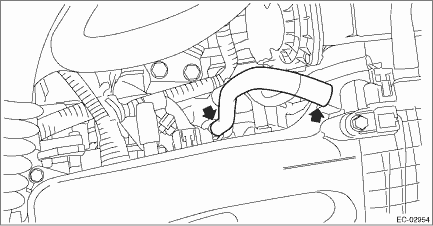 2. Remove the intake manifold. Intake Manifold > REMOVAL">

3. Remove the PCV hose B from the PCV connector.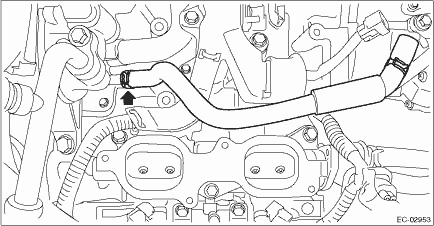 EMISSION CONTROL (AUX. EMISSION CONTROL DEVICES)(H4DO) > PCV HoseINSPECTIONCheck that the PCV hose has no cracks, damage or loose part. ...
EMISSION CONTROL (AUX. EMISSION CONTROL DEVICES)(H4DO) > PCV HoseINSTALLATIONInstall in the reverse order of removal. ...
Other materials:
Inspection
SECURITY AND LOCKS > Keyless TransmitterINSPECTION1. KEYLESS TRANSMITTER BATTERY1. Check the keyless transmitter battery voltage.PREPARATION TOOL:Circuit testerNOTE:Complete the measurement within 5 seconds because the battery discharges during measurement.Battery terminalInspection ConditionsSta ...
Removal
POWER ASSISTED SYSTEM (POWER STEERING) > Steering WheelREMOVALCAUTION:Before handling the airbag system components, always refer to "CAUTION" of "General Description" in "AIRBAG SYSTEM". General Description > CAUTION">1. Set the tire to the straight ...
Economy history setting
1. Perform the preparation steps according to "Preparation for screen settings" 2. Operate the " " or " " switch to select the "Eco History" item. Then push the button. 3. Push the button once more. 4. Select the time of the logged fuel consumption history by o ...
© 2016-2022 Copyright www.sucross.com