Subaru Crosstrek Service Manual: Removal
EMISSION CONTROL (AUX. EMISSION CONTROL DEVICES)(H4DO) > Canister
REMOVAL
2. Remove the rear exhaust pipe. Rear Exhaust Pipe > REMOVAL">

3. Remove the propeller shaft. Propeller Shaft > REMOVAL">

4. Support the rear differential with the transmission jack.
5. Remove the self-locking nuts which hold the rear differential to the rear sub frame assembly.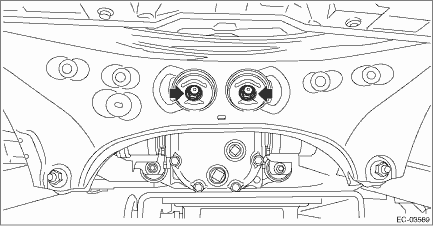 6. Remove the rear differential member from the rear sub frame assembly and the rear differential.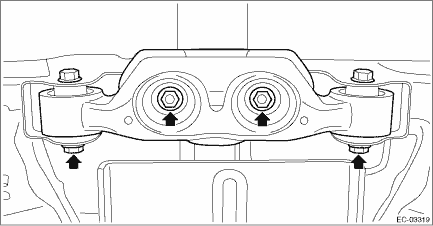 7. Lower the transmission jack gradually until the rear differential is at the position shown in the figure.
NOTE:
• When pulling out the stud bolt from the bushing portion of the rear sub frame assembly, adjust the angle and location of transmission jack and jack stand.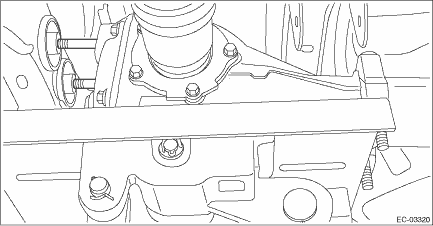 • Do not lower the rear differential excessively. Doing so may add extra load to the drive shaft or cause the falling-off of the drive shaft.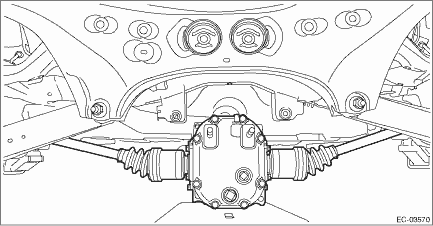 8. Disconnect the drain tube (A), vent tube (B) and purge tube (C) from the canister.
NOTE:
Disconnect the quick connector as shown in the figure.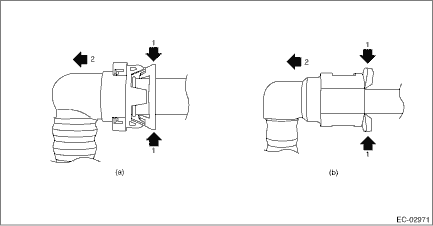 | | | | |
| --- | --- | --- | --- |
| (a) | Drain tube and vent tube | (b) | Purge tube |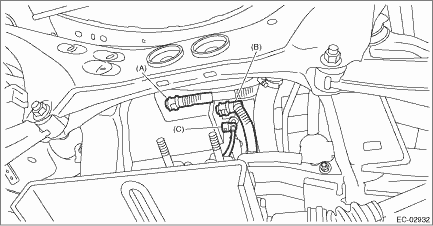 9. Remove the bolts and nuts securing the canister to the vehicle, and remove the canister.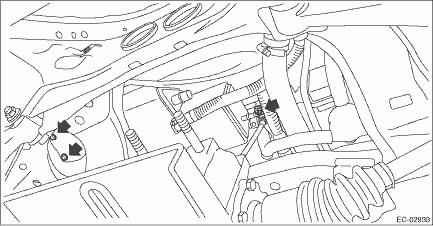 EMISSION CONTROL (AUX. EMISSION CONTROL DEVICES)(H4DO) > CanisterINSPECTION1. Check that the canister has no deformation, cracks or other damages.2. Check that the tube has no cracks, damage or loo ...
EMISSION CONTROL (AUX. EMISSION CONTROL DEVICES)(H4DO) > CanisterINSTALLATION1. Install the canister to the vehicle using bolts and nuts.Tightening torque:7.5 N·m (0.8 kgf-m, 5.5 ft-lb)2. In ...
Other materials:
Disassembly
CONTINUOUSLY VARIABLE TRANSMISSION(TR580) > Front Differential AssemblyDISASSEMBLY1. DIFFERENTIAL CASE ASSEMBLY1. Remove the taper roller bearing using the ST.ST1 498077000REMOVERST2 899864100REMOVERST3 398497701SEAT2. Remove the hypoid driven gear mounting bolt using the ST.ST 18270K ...
Removal
AIRBAG SYSTEM > Front Sub SensorREMOVALCAUTION:Before handling the airbag system components, refer to "CAUTION" of "General Description" in "AIRBAG SYSTEM". General Description > CAUTION">1. Turn the ignition switch to OFF.2. Disconnect the ground c ...
Assembly
REAR SUSPENSION > Rear Shock AbsorberASSEMBLY1. Before assembly, check each part. Rear Shock Absorber > INSPECTION">2. Using a coil spring compressor, compress the coil spring - rear.CAUTION:When installing the coil spring compressor to the coil spring, follow the operation manual acc ...
© 2016-2022 Copyright www.sucross.com