Subaru Crosstrek Service Manual: Removal
COOLING(H4DO) > Water Pump
REMOVAL
1. Disconnect the ground cable from battery. NOTE">

2. Remove the V-belt covers.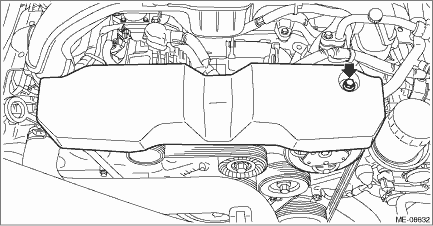 3. Remove the V-belts. V-belt > REMOVAL">

4. Remove the radiator main fan & fan motor assembly. Radiator Main Fan and Fan Motor > REMOVAL">

6. Remove the under cover. Front Under Cover > REMOVAL">

7. Remove the water pump pulley using the ST.
| | |
| --- | --- |
| ST1 18355AA000 | PULLEY WRENCH |
| | |
| --- | --- |
| ST2 18334AA030 | PULLEY WRENCH PIN SET |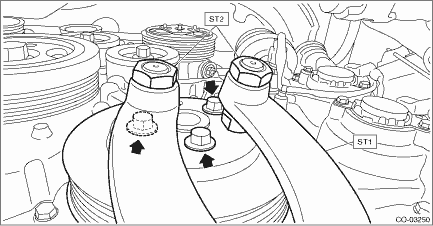 2. WATER PUMP
1. Drain engine coolant. Engine Coolant > REPLACEMENT">

2. Remove the water pump pulley. Water Pump > REMOVAL">

3. Remove the front exhaust pipe. Front Exhaust Pipe > REMOVAL">

4. Remove the water pump from the oil pan upper.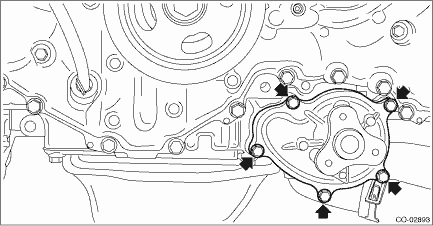 COOLING(H4DO) > Water PumpINSPECTION1. Check the water pump bearing for smooth rotation.2. Check the water pump pulley for abnormalities.3. Make sure the impeller is not abnormally deformed or dama ...
COOLING(H4DO) > Water PumpINSTALLATION1. WATER PUMP PULLEY1. Using the ST, install the water pump pulley.ST1 18355AA000PULLEY WRENCHST2 18334AA030PULLEY WRENCH PIN SETTightening torque:14 N&m ...
Other materials:
Dtc p0455 evap system (cpc) leak detected (large leak)
ENGINE (DIAGNOSTICS)(H4DO) > Diagnostic Procedure with Diagnostic Trouble Code (DTC)DTC P0455 EVAP SYSTEM (CPC) LEAK DETECTED (LARGE LEAK)DTC detecting condition:Detected when two consecutive driving cycles with fault occur.Trouble symptom:• Fuel odor• There is a hole of more than 1.0 ...
Installation
SECURITY AND LOCKS > Rear Inner RemoteINSTALLATION1. Before installation, check the following items.• Cable is free from deformation such as fray.• Grease is applied sufficiently to cable joints.If grease is insufficient, add it as necessary before assembling the cable.• If the ...
Synthetic leather upholstery
The synthetic leather material used on the SUBARU may be cleaned using mild soap or detergent and water, after first vacuuming or brushing away loose dirt. Allow the soap to soak in for a few minutes and wipe off with a clean, damp cloth. Commercial foam-type cleaners suitable for synthetic l ...
© 2016-2022 Copyright www.sucross.com