Subaru Crosstrek Service Manual: Removal
COOLING(H4DO) > Reservoir Tank
REMOVAL
1. Disconnect the over flow hose (A) connected to the radiator filler neck from the reservoir tank.
2. Pull out the reservoir tank to the arrow direction while pushing the claw (B).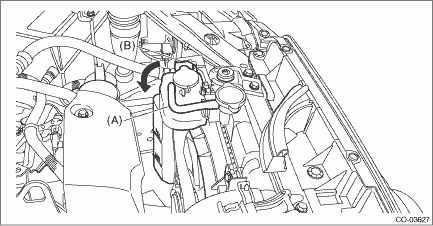 COOLING(H4DO) > Reservoir TankINSPECTION1. Check that the reservoir tank does not have deformation, cracks or damage.2. Make sure the over flow hoses are not cracked, damaged or loose.3. Make sure ...
COOLING(H4DO) > Reservoir TankINSTALLATIONInstall in the reverse order of removal. ...
Other materials:
Installation
DIFFERENTIALS > Rear Differential Front MemberINSTALLATION1. Install the rear differential front member, and temporarily attach and tighten a new self-locking nut.2. Remove the transmission jack.3. Tighten the self-locking nut.Tightening torque:T1: 50 N·m (5.1 kgf-m, 36.9 ft-lb)T2: 110 N&m ...
Specification
HVAC SYSTEM (HEATER, VENTILATOR AND A/C) > General DescriptionSPECIFICATION1. HEATER SYSTEMItemSpecificationsConditionHeating capacity5.0 kW (4,299 kcal/h, 17,059 BTU/h) or more• Air flow control dial or switch: FOOT• Temperature control dial: HI (MAX HOT)• Temperature differenc ...
Disassembly
DIFFERENTIALS > Rear Differential (T-type)DISASSEMBLYTo detect the real cause of trouble, inspect the following items before disassembling.• Tooth contact and backlash between hypoid driven gear and drive pinion• Hypoid driven gear runout on its back surface• Total preload of dr ...
© 2016-2022 Copyright www.sucross.com