Subaru Crosstrek Service Manual: Removal
COOLING(H4DO) > Radiator Main Fan and Fan Motor
REMOVAL
1. Disconnect the ground cable from battery. NOTE">

2. Remove the reservoir tank. Reservoir Tank > REMOVAL">

3. Disconnect the connector from the main fan motor assembly.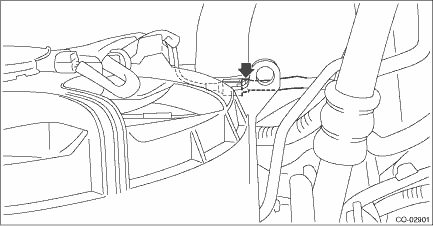 4. Remove the bolts which hold the radiator main fan shroud onto the radiator.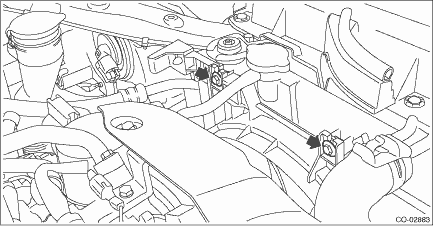 5. Remove the radiator main fan and fan motor from the vehicle.
COOLING(H4DO) > Radiator Main Fan and Fan MotorASSEMBLYAssemble in the reverse order of disassembly.Tightening torque:4.41 N·m (0.45 kgf-m, 3.25 ft-lb)Tightening torque:3.4 N·m (0.3 k ...
COOLING(H4DO) > Radiator Main Fan and Fan MotorDISASSEMBLY1. Remove the clip which holds the main fan motor connector onto the radiator main fan shroud.2. Disconnect the radiator main fan from the ...
Other materials:
Caution
DIFFERENTIALS > General DescriptionCAUTION• When performing any work, always wear work clothes, a work cap and protective shoes. Additionally, wear a helmet, protective goggles, etc. if necessary.• Remove contamination including dirt and corrosion before removal, installation, disasse ...
Driving on grades
Before going down a steep hill, slow down and shift into lower gear (if necessary, use 1st gear) in order to utilize the engine braking effect and prevent overheating of your vehicle's brakes. Do not make sudden downshifts. When driving uphill in hot weather, the air conditioner may ...
Check list for interview Check
POWER ASSISTED SYSTEM (POWER STEERING) (DIAGNOSTICS) > Check List for InterviewCHECKCheck the following items regarding condition of the vehicle.1. TROUBLE STATUSPhenomenon of the vehicle Steering is heavy Steering is not smooth Steering is unstable (wondering) Steering does not return to center ...
© 2016-2022 Copyright www.sucross.com