Subaru Crosstrek Service Manual: Removal
COOLING(H4DO) > Radiator
REMOVAL
The radiator is pressurized when the engine and radiator are hot. Wait until engine and radiator cool down before working on the radiator.
1. Disconnect the ground cable from battery. NOTE">

2. Remove the V-belt covers.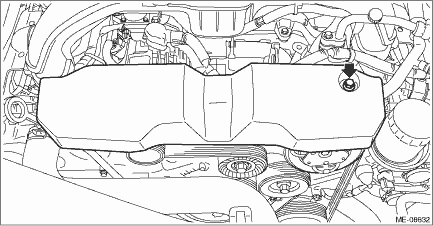 3. Remove the grille bracket.
NOTE:
4. Remove the bolts, and remove the bracket - plate (A).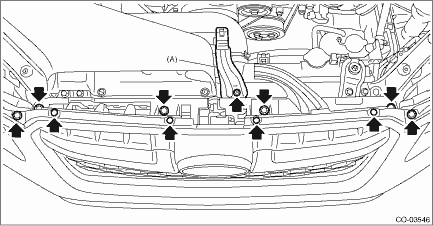 6. Remove the under cover. Front Under Cover > REMOVAL">

7. Drain engine coolant. Engine Coolant > REPLACEMENT">

8. Disconnect the radiator outlet hose from thermostat cover.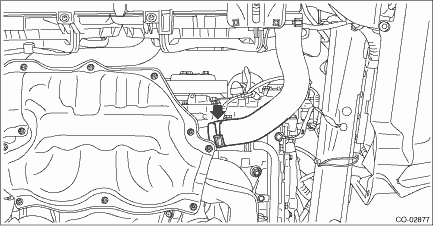 10. Remove the air intake duct. Air Intake Duct > REMOVAL">

11. Remove the reservoir tank. Reservoir Tank > REMOVAL">

12. Disconnect the connector (A) from the main fan motor assembly and the connector (B) from the sub fan motor assembly.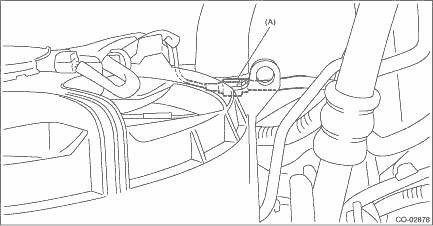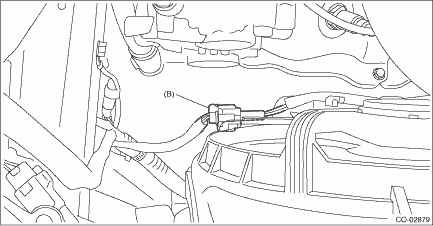 13. Disconnect the radiator inlet hose from the water pipe assembly.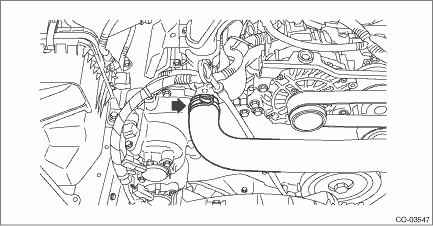 14. Remove the radiator upper brackets.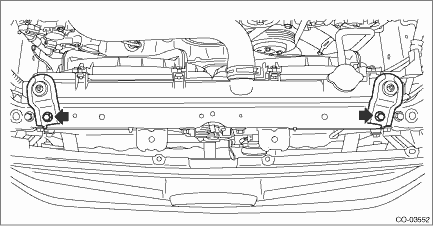 15. Remove the radiator from vehicle.
16. Remove the radiator lower cushion from the radiator lower bracket.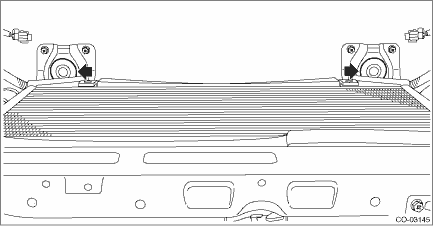 COOLING(H4DO) > RadiatorINSPECTION1. Check that the radiator does not have deformation, cracks or damage.2. Check that the hose has no cracks, damage or loose part.3. Remove the radiator cap, fill ...
COOLING(H4DO) > RadiatorINSTALLATION1. Attach the radiator lower cushion to the radiator lower bracket.2. Install the radiator to vehicle.NOTE:Make pins on the lower side of radiator be fitted into ...
Other materials:
List
TELEMATICS SYSTEM (DIAGNOSTICS) > Diagnostics with PhenomenonLISTNo.SymptomsReference1The system does not notify the Telematics Service Provider Center automatically after collision. Diagnostics with Phenomenon > INSPECTION">2The system does not notify the center even if the SOS button ...
Note
INSTRUMENTATION/DRIVER INFO > Multi-function Display (MFD) SystemNOTEFor procedure of each component in the Multi-Function Display (MFD) system, refer to the respective section.• Multi-function display: Multi-function Display (MFD) > REMOVAL">• Multi-function display switc ...
Dtc c0054 bls on malfunction
VEHICLE DYNAMICS CONTROL (VDC) (DIAGNOSTICS) > Diagnostic Procedure with Diagnostic Trouble Code (DTC)DTC C0054 BLS ON MALFUNCTIONDTC detecting condition:Defective stop light switchTrouble symptom:• VDC does not operate.• EyeSight does not operate.Wiring diagram:Vehicle dynamics contr ...
© 2016-2022 Copyright www.sucross.com