Subaru Crosstrek Service Manual: Removal
CONTROL SYSTEMS > MT Gear Shift Lever
REMOVAL
1. Disconnect the ground cable from battery. NOTE">

NOTE:
For model with battery sensor, disconnect the ground terminal from battery sensor.
2. Remove the console box. Console Box > REMOVAL">

3. Remove the gear shift knob and remove the cover - shift lever.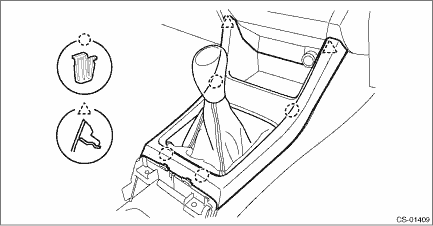 4. Remove the panel center LWR LH and RH. Console Box > REMOVAL">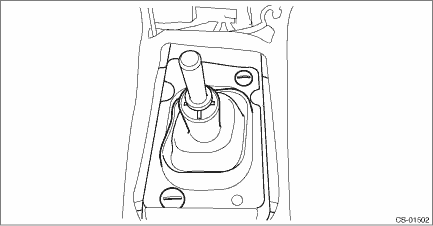 6. Remove the boot and insulator assembly.
7. Remove the harness clamp from the plate COMPL.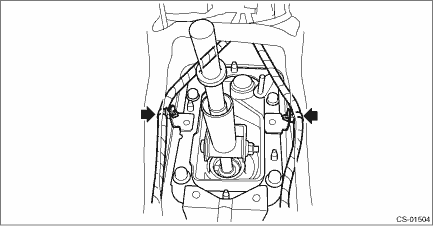 8. Remove the plate COMPL from the vehicle body.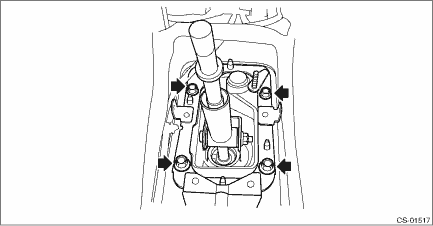 10. Remove the center exhaust pipe. Center Exhaust Pipe > REMOVAL">

11. Remove the center exhaust cover.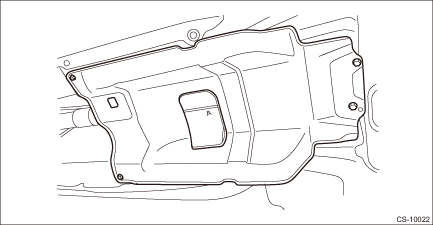 12. Remove the stay from the shift bracket.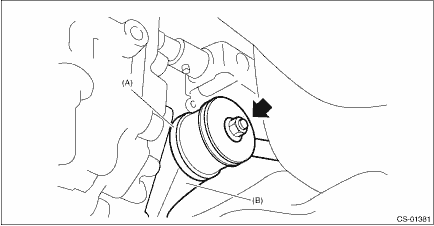 13. Remove the rod from joint.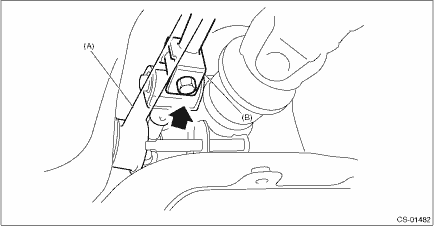 14. Remove the cushion rubber from the vehicle body.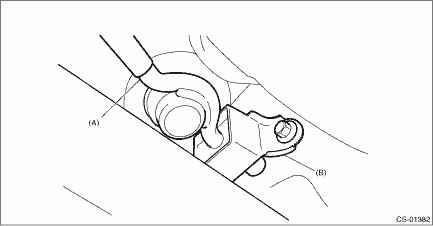 15. Extract the spring pin and remove the joint.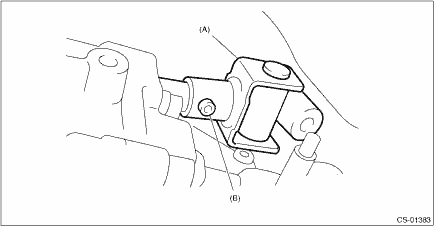 17. Remove the gear shift lever.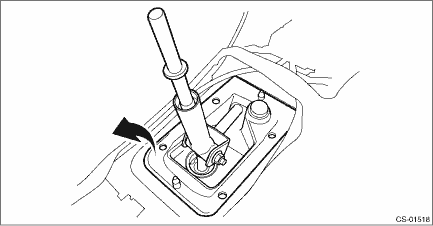 CONTROL SYSTEMS > MT Gear Shift LeverASSEMBLYNOTE:• Clean all the parts before assembly.• Apply NIGTIGHT LYW No. 2 grease or equivalent to each part. General Description > COMPONENT ...
CONTROL SYSTEMS > MT Gear Shift LeverDISASSEMBLY1. Remove the lock wires.(A)Lock wire2. Remove the rod from gear shift lever.(A)Rod(B)Lever(C)Stay3. Separate the rod and inner boot.4. Remove the sn ...
Other materials:
Inspection
POWER ASSISTED SYSTEM (POWER STEERING) > Steering ColumnINSPECTION1. UNIT INSPECTIONCheck the following items, and if there is anything out of standard value, it is considered to be damaged. If so, replace it with a new part.• Measure the whole length of the column assembly - steering.Stand ...
Dtc p0843 transmission fluid pressure sensor/switch "a" circuit high
CONTINUOUSLY VARIABLE TRANSMISSION (DIAGNOSTICS) > Diagnostic Procedure with Diagnostic Trouble Code (DTC)DTC P0843 TRANSMISSION FLUID PRESSURE SENSOR/SWITCH "A" CIRCUIT HIGHDTC detecting condition:Immediately at fault recognitionTrouble symptom:Shift characteristics malfunctionCAUTION: ...
General precautions regarding SRS airbag system
WARNING To obtain maximum protection in the event of an accident, the driver and all passengers must always wear seatbelts when in the vehicle. The SRS airbag is designed only to be a supplement to the primary protection provided by the seatbelt. It does not eliminate the need to ...
© 2016-2022 Copyright www.sucross.com