Subaru Crosstrek Service Manual: Removal
CONTINUOUSLY VARIABLE TRANSMISSION(TR580) > Oil Pump Chain
REMOVAL
1. Remove the transmission assembly from the vehicle. Automatic Transmission Assembly > REMOVAL">

2. Remove the torque converter assembly. Torque Converter Assembly > REMOVAL">

3. Remove the oil pump chain, oil pump sprocket, driven sprocket and oil pump chain cover.
NOTE:
Oil pump chain cover may be hard to remove because the driven sprocket is installed to the shaft side of the oil pump. Do not remove it forcibly. Remove it while holding the driven sprocket by hand.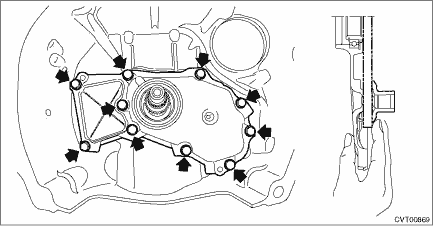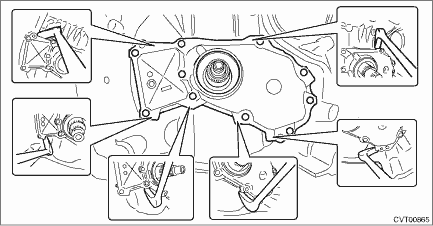 4. Remove the seal rings.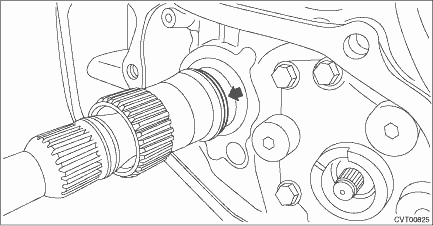 5. Remove the driven sprocket from oil pump chain cover to remove the oil pump chain.
NOTE:
• The driven sprocket is replaced as an assembly only, because it is a non-disassembly part.
• If the ball bearing is removed from the driven sprocket, replace with a new part.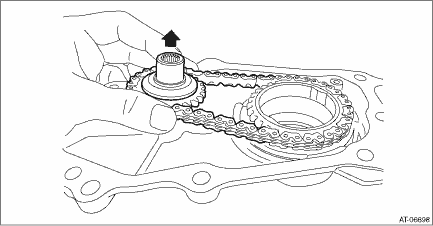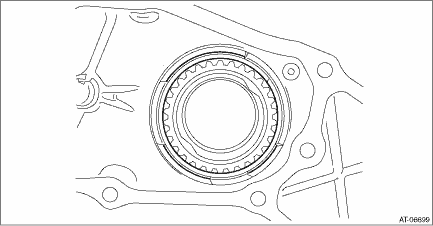 7. Remove the drive sprocket.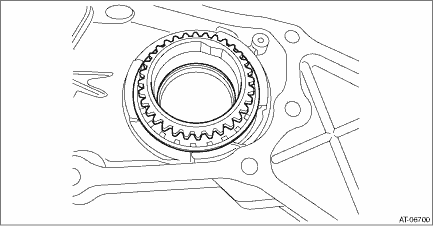 8. Remove the oil seal from the oil pump chain cover.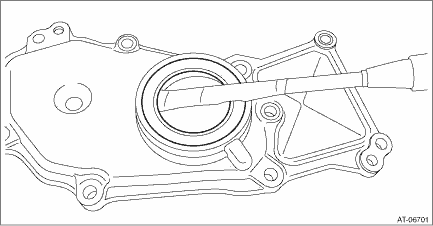 CONTINUOUSLY VARIABLE TRANSMISSION(TR580) > Oil Pump ChainASSEMBLY1. DRIVE SPROCKET1. Using the ST, install the ball bearing.NOTE:Use a new ball bearing.ST 499755502PRESS SNAP RING2. Install the ...
CONTINUOUSLY VARIABLE TRANSMISSION(TR580) > Oil Pump ChainDISASSEMBLY1. DRIVE SPROCKET1. Remove the snap ring.2. Remove the ball bearing using ST.ST1 498077600REMOVERST2 399513600INSTALLER ...
Other materials:
Installation
BRAKE > Brake BoosterINSTALLATION1. Check and adjust the operating rod of the vacuum booster assembly.(1) Measure the length between the vacuum booster assembly mounting surface and clevis pin hole.(2) If it is not within the specification, loosen the lock nut, rotate the vacuum booster assembly ...
Dtc p0113 intake air temperature sensor 1 circuit high bank 1
ENGINE (DIAGNOSTICS)(H4DO) > Diagnostic Procedure with Diagnostic Trouble Code (DTC)DTC P0113 INTAKE AIR TEMPERATURE SENSOR 1 CIRCUIT HIGH BANK 1DTC detecting condition:Immediately at fault recognitionTrouble symptom:• Improper idling• Poor driving performanceCAUTION:After servicing o ...
Installing a rearward facing child restraint
1. Place the child restraint system in the rear seating position. 2. Run the lap and shoulder belt through or around the child restraint system following the instructions provided by its manufacturer. 3. Insert the tongue plate into the buckle until you hear a click. 4. Take up t ...
© 2016-2022 Copyright www.sucross.com