Subaru Crosstrek Service Manual: Removal
CONTINUOUSLY VARIABLE TRANSMISSION(TR580) > Front Differential Assembly
REMOVAL
1. Remove the transmission assembly from the vehicle. Automatic Transmission Assembly > REMOVAL">

2. Remove the air breather hose. Air Breather Hose > REMOVAL">

3. Remove the control valve body. Control Valve Body > REMOVAL">

4. Remove the transmission harness. Transmission Harness > REMOVAL">

5. Remove the turbine speed sensor. Turbine Speed Sensor > REMOVAL">

6. Remove the secondary speed sensor. Secondary Speed Sensor > REMOVAL">

7. Remove the primary speed sensor. Primary Speed Sensor > REMOVAL">

8. Remove the inhibitor switch. Inhibitor Switch > REMOVAL">

9. Remove the extension case. Extension Case > REMOVAL">

10. Remove the transfer clutch assembly. Transfer Clutch > REMOVAL">

11. Remove the transfer driven gear assembly. Transfer Driven Gear > REMOVAL">

12. Remove the parking pawl. Parking Pawl > REMOVAL">

13. Remove the reduction driven gear assembly. Reduction Driven Gear > REMOVAL">

14. Remove the oil pan and oil strainer. Oil Pan and Strainer > REMOVAL">

15. Remove the transmission control device. Transmission Control Device > REMOVAL">

16. Remove the transmission case. Transmission Case > REMOVAL">

17. Remove the reduction drive gear. Reduction Drive Gear > REMOVAL">

18. Remove the primary pulley, secondary pulley and variator chain. Primary Pulley and Secondary Pulley > REMOVAL">

19. Remove the reverse brake assembly. Reverse Brake Assembly > REMOVAL">

20. Remove the forward clutch assembly. Forward Clutch Assembly > REMOVAL">

21. Remove the drive pinion shaft assembly. Drive Pinion Shaft Assembly > REMOVAL">

22. Remove the oil baffle.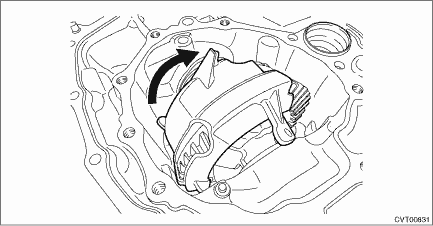 23. Remove the lock plates on both sides.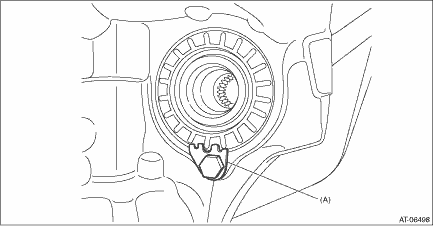 24. Remove the differential side retainers using ST.
NOTE:
• When the wrench COMPL retainer interferes with the converter case, align the cutout portion with the interference part.
• Support the differential case assembly by hand to avoid damaging the retainer mounting hole of the converter case.
• Keep the left and right differential side retainers and left and right bearing outer races by attaching tags or in similar ways to make it possible to identify RH and LH sides.
| | |
| --- | --- |
| ST 18658AA020 | WRENCH COMPL RETAINER |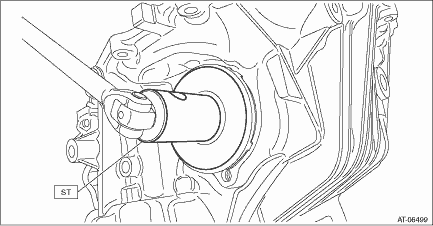 25. Remove the front differential assembly while being careful not to damage the attachment part of the retainer.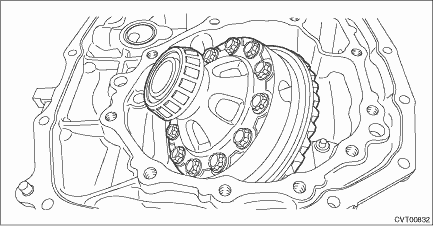 26. Remove the oil seals and O-rings from both differential side retainers. Front Differential Assembly > DISASSEMBLY">

CONTINUOUSLY VARIABLE TRANSMISSION(TR580) > Front Differential AssemblyADJUSTMENT1. Using the ST, screw-in the retainer until resistance is felt.NOTE:RH side should be screwed-in more than LH side. ...
CONTINUOUSLY VARIABLE TRANSMISSION(TR580) > Front Differential AssemblyASSEMBLY1. DIFFERENTIAL CASE ASSEMBLY1. Install the washer and differential bevel gear into the differential case (RH).2. Inst ...
Other materials:
Dtc p0019 crankshaft position - camshaft position correlation bank 2 sensor b
ENGINE (DIAGNOSTICS)(H4DO) > Diagnostic Procedure with Diagnostic Trouble Code (DTC)DTC P0019 CRANKSHAFT POSITION - CAMSHAFT POSITION CORRELATION BANK 2 SENSOR BDTC detecting condition:Detected when two consecutive driving cycles with fault occur.Trouble symptom:• Engine stall• Improp ...
Preparation tool
VEHICLE DYNAMICS CONTROL (VDC) > General DescriptionPREPARATION TOOL1. SPECIAL TOOLILLUSTRATIONTOOL NUMBERDESCRIPTIONREMARKS — SUBARU SELECT MONITOR 4Used for setting of each function and troubleshooting for electrical system.NOTE:For detailed operation procedures of Subaru Select Monitor 4, re ...
Keyless access setting (models with "keyless access with pushbutton start system")
Preparation for keyless access settings 1. Perform the preparation steps according to "Preparation for car settings" 2. Operate the " " or " " switch to select the "Keyless Access Setting" item. Then push the button. Driver's door unlock setting 1. Perform the preparatio ...
© 2016-2022 Copyright www.sucross.com