Subaru Crosstrek Service Manual: Removal
CONTINUOUSLY VARIABLE TRANSMISSION(TR580) > Extension Case
REMOVAL
1. Remove the transmission assembly from the vehicle. Automatic Transmission Assembly > REMOVAL">

2. Remove the extension case and transmission hanger.
NOTE:
The total number of extension case mounting bolts is 13.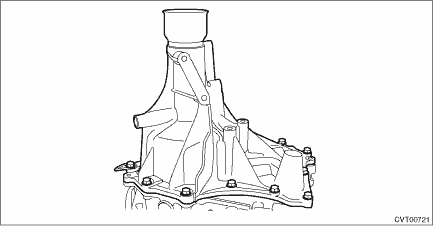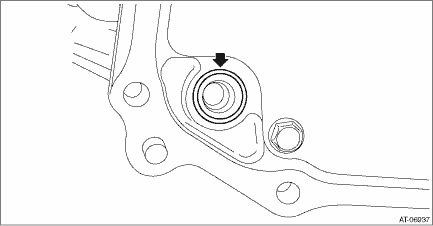 CONTINUOUSLY VARIABLE TRANSMISSION(TR580) > Extension CaseADJUSTMENTNOTE:When replacing the extension case, select the transfer drive gear shim and transfer driven gear shim. Reduction Drive Gear ...
CONTINUOUSLY VARIABLE TRANSMISSION(TR580) > Extension CaseASSEMBLY1. Press-fit the dust cover into extension case.2. Install the extension case oil seal to extension case. Differential Side Retain ...
Other materials:
Engine wiring harness and transmission cord Location
WIRING SYSTEM > Engine Wiring Harness and Transmission CordLOCATIONConnectorConnecting toNo.PoleColorAreaNo.DescriptionE254BlackA-3B21Bulkhead wiring harnessE316BrownA-3B22E42BlueB-4 Purge control solenoid valveE52Dark grayB-2 Fuel injector No. 1E62Dark grayA-2 Fuel injector No. 3E82BlackB-2 Engi ...
Removal
AIRBAG SYSTEM > Passenger's Airbag ModuleREMOVALCAUTION:Before handling the airbag system components, refer to "CAUTION" of "General Description" in "AIRBAG SYSTEM". General Description > CAUTION">1. Turn the ignition switch to OFF.2. Disconne ...
Contrast setting
1. Perform the preparation steps according to "Preparation for image quality and volume settings" 2. Operate the " " or "" switch to select the "Contrast" item. Then push the button. 3. Select a contrast level by operating the " " or " " switch, and confirm the setting b ...
© 2016-2022 Copyright www.sucross.com