Subaru Crosstrek Service Manual: Removal
CONTINUOUSLY VARIABLE TRANSMISSION(TR580) > Drive Pinion Shaft Assembly
REMOVAL
1. Remove the transmission assembly from the vehicle. Automatic Transmission Assembly > REMOVAL">

2. Remove the air breather hose. Air Breather Hose > REMOVAL">

3. Remove the control valve body. Control Valve Body > REMOVAL">

4. Remove the transmission harness. Transmission Harness > REMOVAL">

5. Remove the turbine speed sensor. Turbine Speed Sensor > REMOVAL">

6. Remove the secondary speed sensor. Secondary Speed Sensor > REMOVAL">

7. Remove the primary speed sensor. Primary Speed Sensor > REMOVAL">

8. Remove the inhibitor switch. Inhibitor Switch > REMOVAL">

9. Remove the extension case. Extension Case > REMOVAL">

10. Remove the transfer clutch assembly. Transfer Clutch > REMOVAL">

11. Remove the transfer driven gear assembly. Transfer Driven Gear > REMOVAL">

12. Remove the parking pawl. Parking Pawl > REMOVAL">

13. Remove the reduction driven gear assembly. Reduction Driven Gear > REMOVAL">

14. Remove the oil pan and oil strainer. Oil Pan and Strainer > REMOVAL">

15. Remove the transmission control device. Transmission Control Device > REMOVAL">

16. Remove the transmission case. Transmission Case > REMOVAL">

17. Remove the reduction drive gear. Reduction Drive Gear > REMOVAL">

18. Remove the primary pulley, secondary pulley and variator chain. Primary Pulley and Secondary Pulley > REMOVAL">

19. Remove the reverse brake assembly. Reverse Brake Assembly > REMOVAL">

20. Remove the forward clutch assembly. Forward Clutch Assembly > REMOVAL">

21. Using the ST, remove the drive pinion retainer.
| | |
| --- | --- |
| ST 18270KA020 | SOCKET (E20) |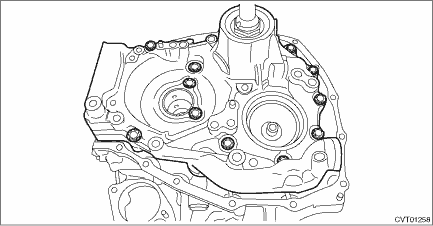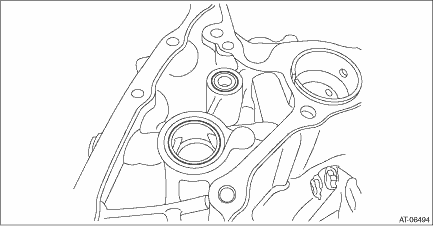 CONTINUOUSLY VARIABLE TRANSMISSION(TR580) > Drive Pinion Shaft AssemblyADJUSTMENT1. Remove the liquid gasket from the mating surface completely.2. Using the ST, install the drive pinion retainer to ...
CONTINUOUSLY VARIABLE TRANSMISSION(TR580) > Drive Pinion Shaft AssemblyASSEMBLY1. Install the plug to drive pinion retainer.NOTE:• Use new O-rings.• Apply CVTF to the O-rings.Tightening ...
Other materials:
Adjustment
CONTINUOUSLY VARIABLE TRANSMISSION(TR580) > Inhibitor SwitchADJUSTMENT1. Shift the select lever to "N" range.2. Loosen the two bolts holding the inhibitor switch.3. Insert the ST vertically into the holes of the shifter arm and switch body.ST 499267300STOPPER PIN4. Tighten the two ...
Dtc b1812 short in driver s airbag dual stage - 2nd step (to ground)
AIRBAG SYSTEM (DIAGNOSTICS) > Diagnostic Chart with Trouble CodeDTC B1812 SHORT IN DRIVER'S AIRBAG DUAL STAGE - 2ND STEP (TO GROUND)Diagnosis start condition:Ignition voltage is 10 V to 16 V.DTC detecting condition:• Airbag main harness circuit is shorted to ground.• Airbag modu ...
Removal
AIRBAG SYSTEM > Curtain Airbag SensorREMOVAL1. CROSSTREK MODELCAUTION:• Before handling the airbag system components, refer to "CAUTION" of "General Description" in "AIRBAG SYSTEM". General Description > CAUTION">• Airbag system satellit ...
© 2016-2022 Copyright www.sucross.com