Subaru Crosstrek Service Manual: Removal
CLUTCH SYSTEM > Operating Cylinder
REMOVAL
Brake fluid spilled on the vehicle body will harm the paint surface; therefore, wash it off with water and wipe clean quickly if spilled.
1. Disconnect the ground cable from battery.
2. Remove the clip (A) from the air intake boot.
3. Loosen the clamp (B) connecting the air intake boot and air cleaner case (rear).
4. Loosen the clamp (C) which connects the air intake boot and throttle body.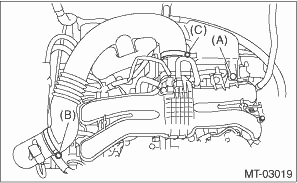 5. Remove the air intake boot from the throttle body, and move it to the left side wheel apron.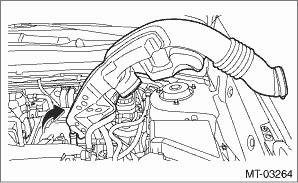 6. Disconnect the clutch hose.
CAUTION:
Cover the hose joint to prevent the brake fluid from flowing out.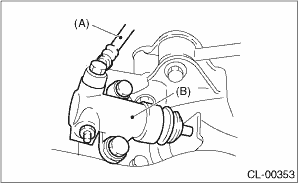 | | |
| --- | --- |
| (A) | Clutch hose |
| (B) | Operating cylinder |
7. Remove the operating cylinder.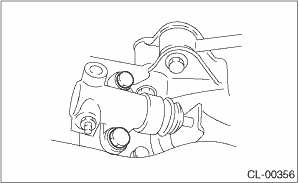 CLUTCH SYSTEM > Operating CylinderASSEMBLYNOTE:During assembly, apply hydraulic oil to all parts.Recommended brake fluid:New FMVSS No. 116 DOT3 or DOT41. Install the piston spring.2. Insert piston ...
CLUTCH SYSTEM > Operating CylinderDISASSEMBLY1. Remove the boot and push rod.2. Apply compressed air through clutch hose attachment hole.NOTE:Face the piston hole down and place a piece of wood und ...
Other materials:
Dtc c1733 longitudinal g sensor
VEHICLE DYNAMICS CONTROL (VDC) (DIAGNOSTICS) > Diagnostic Procedure with Diagnostic Trouble Code (DTC)DTC C1733 LONGITUDINAL G SENSORDTC DETECTING CONDITION:Defective longitudinal G sensorTROUBLE SYMPTOM:• ABS does not operate.• VDC does not operate.• Hill start assist does not ...
Removal
WIPER AND WASHER SYSTEMS > Front Washer Nozzle and HoseREMOVAL1. NOZZLE - WINDSHIELD WASHER & HOSE1. Remove the arm assembly - windshield wiper. Front Wiper Arm > REMOVAL">2. Remove the cowl panel - side and the cowl panel assembly. Cowl Panel > REMOVAL">CAUTION:Before ...
Preparation tool
CLUTCH SYSTEM > General DescriptionPREPARATION TOOL1. SPECIAL TOOLILLUSTRATIONTOOL NUMBERDESCRIPTIONREMARKS498497100CRANKSHAFT STOPPERUsed for stopping rotation of the flywheel.499747100CLUTCH DISC GUIDEUsed for installing the clutch disc to the flywheel. — SUBARU SELECT MONITOR 4Used for setti ...
© 2016-2022 Copyright www.sucross.com