Subaru Crosstrek Service Manual: Removal
BRAKE > Front Brake Pad
REMOVAL
1. Lift up the vehicle, and then remove the front wheels.
2. Remove the front brake pad.
(1) Remove the caliper bolt on the lower side.
(2) Raise the caliper body assembly and support it.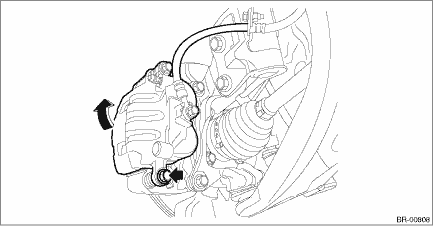 NOTE:
Do not disconnect the brake hose from the caliper body assembly.
(3) Remove the brake pad from support - front disc brake.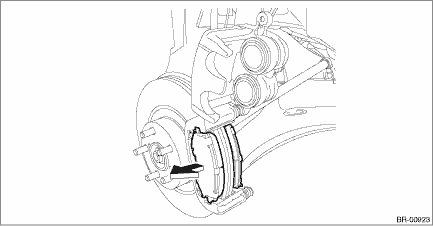 BRAKE > Front Brake PadINSPECTION1. Check the pad thickness (A).NOTE:• Always replace the pads of both wheels and both sides as a set.• Replace pad clips if they are twisted or worn.&bu ...
BRAKE > Front Brake PadINSTALLATIONNOTE:Before installation, remove mud and foreign matter from the caliper body assembly and support - front disc brake.1. Check the brake pad. Front Brake Pad &gt ...
Other materials:
Dtc p013a o2 sensor slow response - rich to lean bank 1 sensor 2
ENGINE (DIAGNOSTICS)(H4DO) > Diagnostic Procedure with Diagnostic Trouble Code (DTC)DTC P013A O2 SENSOR SLOW RESPONSE - RICH TO LEAN BANK 1 SENSOR 2DTC detecting condition:Detected when two consecutive driving cycles with fault occur.CAUTION:After servicing or replacing faulty parts, perform Clea ...
Suspension
SPECIFICATIONS > CrosstrekSUSPENSIONModel2.0 L DOHC non-turboFrontMacpherson strut type suspensionRearDouble-wishbone type suspension ...
Brake booster
If the brake booster does not operate as described in the following, have it checked by your SUBARU dealer. 1. With the ignition switch in the "LOCK"/ "OFF" position, depress the brake pedal several times, applying the same pedal force each time. The distance the pedal travels should not va ...
© 2016-2022 Copyright www.sucross.com