Subaru Crosstrek Service Manual: Removal
BRAKE > Brake Pedal
REMOVAL
Before handling the airbag system components, always refer to "CAUTION" of "General Description" in "AIRBAG SYSTEM". General Description > CAUTION">

1. Disconnect the ground cable from battery and wait for at least 60 seconds before starting work. NOTE">

2. Remove the cover assembly - instrument panel LWR driver. Instrument Panel Lower Cover > REMOVAL">

3. Remove the knee airbag module. Knee Airbag Module > REMOVAL">

4. Remove the universal joint assembly - steering. Universal Joint > REMOVAL">

CAUTION:
To prevent damage to the universal joint assembly - steering and improper steering effort, make sure to remove the universal joint assembly - steering.
5. Remove the column assembly - steering. Steering Column > REMOVAL">

6. Remove the brake pedal assembly.
(1) Disconnect the stop light switch connector.
(2) Remove the snap pin (a) and clevis pin (b), and remove the operating rod from the brake pedal.
CAUTION:
• Be careful not to apply excessive force to the operating rod when handling the operating rod.
The angle may change by ±3°, and it may result in damage to power piston cylinder.
• Do not change the push rod length.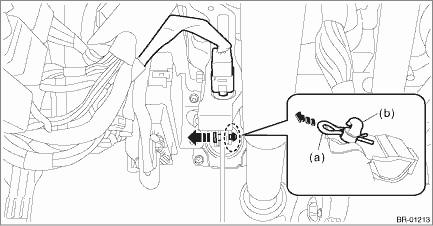 (3) Remove the bolt and nut, and then detach the brake pedal assembly.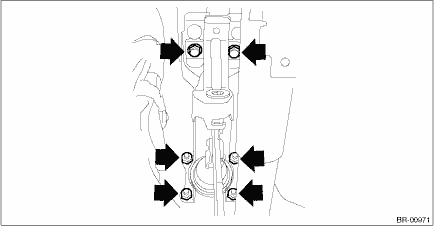 2. MT MODEL
NOTE:
Brake pedal is integrated with the clutch pedal.
For removal procedures of the brake pedal, refer to Clutch section. Clutch Pedal > REMOVAL">

BRAKE > Brake PedalINSPECTION1. Move the pad - brake pedal in a horizontal direction with a force of approx. 10 N (1 kgf, 2 lbf), and check that the pedal deflection is in the range of specificatio ...
BRAKE > Brake PedalINSTALLATIONCAUTION:Before handling the airbag system components, always refer to "CAUTION" of "General Description" in "AIRBAG SYSTEM". Gene ...
Other materials:
Talking on the phone
The call screen opens when you perform the following operations. When you accept a call on the incoming call screen (by selecting the key), the call screen opens. When you are on the outgoing call screen, the screen changes to the call screen when the other party answers the ...
Tire pressure warning light does not come on
TIRE PRESSURE MONITORING SYSTEM (DIAGNOSTICS) > Tire Pressure Warning Light / Trouble Indicator Light Illumination PatternTIRE PRESSURE WARNING LIGHT DOES NOT COME ONDETECTING CONDITION:Defective combination meterTROUBLE SYMPTOM:When the ignition switch is turned to ON, the tire pressure warning ...
Dtc p1497 coil 3 egr "a" control circuit high
ENGINE (DIAGNOSTICS)(H4DO) > Diagnostic Procedure with Diagnostic Trouble Code (DTC)DTC P1497 COIL 3 EGR "A" CONTROL CIRCUIT HIGHNOTE:For the diagnostic procedure, refer to DTC P1499. Diagnostic Procedure with Diagnostic Trouble Code (DTC) > DTC P1499 COIL 4 EGR "A" CONTRO ...
© 2016-2022 Copyright www.sucross.com