Subaru Crosstrek Service Manual: Radiator cap Inspection
COOLING(H4DO) > Radiator Cap
INSPECTION
1. Check that the radiator cap does not have deformation, cracks or damage.
2. Attach the radiator cap tester to radiator cap.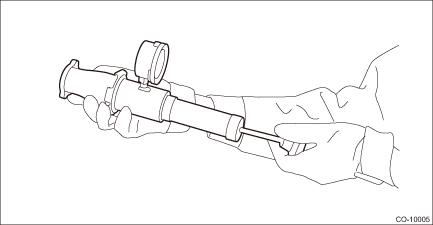 3. Increase pressure until the radiator cap tester gauge needle stops. Radiator cap is functioning properly if it holds the service limit pressure for 5 — 6 seconds. Replace the radiator cap if its valve opens at less than the service limit.
CAUTION:
Be sure to remove foreign matter and rust from the cap in advance. Otherwise, results of pressure test will be incorrect.
93 — 123 kPa (0.95 — 1.25 kg/cm2, 14 — 18 psi)
83 kPa (0.85 kg/cm2, 12 psi)
COOLING(H4DO) > Engine Cooling System Trouble in GeneralINSPECTIONTroublePossible causeCorrective actionOver-heatinga. Insufficient engine coolantReplenish engine coolant, inspect for leakage, and ...
Other materials:
Starting engine
CAUTION Do not operate the starter motor continuously for more than 10 seconds. If the engine fails to start after operating the starter for 5 to 10 seconds, wait for 10 seconds or more before trying again. NOTE It may be difficult to start the engine when the battery has been disconnecte ...
List of diagnostic trouble code (dtc) List
LAN SYSTEM (DIAGNOSTICS) > List of Diagnostic Trouble Code (DTC)LISTDTCItemContent of diagnosisNoteU1201CAN-HS COUNTER ABNORMALHigh speed CAN communication error Diagnostic Procedure with Diagnostic Trouble Code (DTC) > DTC U1201 CAN-HS COUNTER ABNORMAL">U0073CONTROL MODULE COMMUNICATI ...
Dtc p0713 transmission fluid temperature sensor "a" circuit high
CONTINUOUSLY VARIABLE TRANSMISSION (DIAGNOSTICS) > Diagnostic Procedure with Diagnostic Trouble Code (DTC)DTC P0713 TRANSMISSION FLUID TEMPERATURE SENSOR "A" CIRCUIT HIGHDTC detecting condition:Immediately at fault recognitionTrouble symptom:• Excessive shift shock• Shift ch ...
© 2016-2022 Copyright www.sucross.com