Subaru Crosstrek Service Manual: Procedure
HVAC SYSTEM (HEATER, VENTILATOR AND A/C) > Refrigerant Pressure with Manifold Gauge Set
PROCEDURE
1. REFRIGERANT GAS PRESSURE INSPECTION
1. Prepare the vehicle.
NOTE:
Check that the ambient temperature is 25 — 40°C (77 — 104°F) and that the humidity is 30% — 80%.
• Place the vehicle in the shade and windless condition, and open the front hood.
• Open the front windows and close all doors.
2. Check the refrigerant pressure.
(1) Connect the manifold gauge set, and start the engine.
(2) Set the vehicle to the following conditions.
Item

Condition

Engine

Warmed up (Engine coolant temperature indicator light: OFF)

Air vent grille

Shutter is fully open.

A/C switch

ON

Temperature adjustment dial

LO (MAX COOL)

FRESH/RECIRC switch

RECIRC

Air flow control dial or switch

VENT

Fan dial

Auto A/C model: 5/7 level

Manual A/C model: 3/4 level
(3) In the condition of step (2), idle the engine for 30 minutes.
(4) Read the gauge values on both high pressure side and low pressure side for manifold gauge.
3. Measure the air vent grille outlet opening temperature, ambient temperature and humidity.
Thermometer and hygrometer
NOTE:
For outlet opening temperature, measure the average temperature of center grille assembly and side grille assembly.
4. Check that the high and low pressures and outlet opening temperature for ambient temperature and humidity is within the standard value described in the chart below.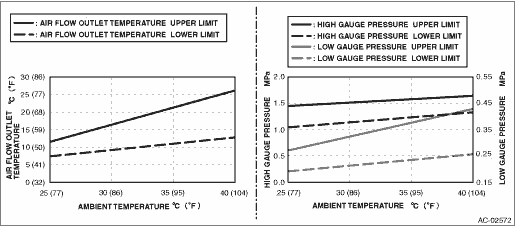 5. Refer to "DIAGNOSIS WITH SYMPTOM" if the inspection result is not within the standard value. Refrigerant Pressure with Manifold Gauge Set > INSPECTION">

HVAC SYSTEM (HEATER, VENTILATOR AND A/C) > Refrigerant Pressure with Manifold Gauge SetINSPECTION1. INSPECTION WITH PRESSURE SYMPTOMSSymptomsReferenceBoth high and low pressure sides are low. Refri ...
Other materials:
Inspection
COOLING(H4DO) > RadiatorINSPECTION1. Check that the radiator does not have deformation, cracks or damage.2. Check that the hose has no cracks, damage or loose part.3. Remove the radiator cap, fill the radiator with engine coolant, and then install the radiator cap tester to the filler neck of rad ...
Removal
POWER ASSISTED SYSTEM (POWER STEERING) > Power Steering Control ModuleREMOVAL1. Disconnect the ground cable from battery. NOTE">2. Remove the power steering control module.(1) Disconnect the connector of the power steering control module.(2) Remove the nuts, and remove the power steering ...
Dtc u0122 lost communication with vehicle dynamics control module
ENGINE (DIAGNOSTICS)(H4DO) > Diagnostic Procedure with Diagnostic Trouble Code (DTC)DTC U0122 LOST COMMUNICATION WITH VEHICLE DYNAMICS CONTROL MODULENOTE:For the diagnostic procedure, refer to LAN section. Basic Diagnostic Procedure">1. OUTLINE OF DIAGNOSISDetect malfunction of CAN commu ...
© 2016-2022 Copyright www.sucross.com