Subaru Crosstrek Service Manual: Location
COMMUNICATION SYSTEM > Relay and Fuse
LOCATION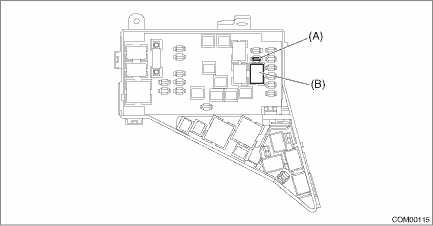 Main fuse box

Fuse 15 A (horn assembly)

(A)

Horn relay

(B)
NOTE:
For other related fuses, refer to the wiring diagram. Power Supply Circuit">

COMMUNICATION SYSTEM > Relay and FuseINSPECTION1. CHECK FUSE1. Remove the fuse and check visually.2. If the fuse is blown out, replace the fuse.2. CHECK RELAY1. Check the resistance between relay t ...
Other materials:
Inspection
COOLING(H4DO) > Engine CoolantINSPECTIONNOTE:When adding the engine coolant, always use SUBARU Super Coolant.1. Park the vehicle on a level surface.2. Turn the ignition switch to OFF.3. Check the engine coolant amount, and if the coolant level is low, check for the coolant leakage, and then add t ...
Removal
STARTING/CHARGING SYSTEMS(H4DO) > Battery Current & Temperature SensorREMOVAL1. BATTERY CURRENT SENSORNOTE:Remove the battery current sensor and battery cable as a unit.1. Disconnect the battery ground cable and remove the clip from the battery rod.2. Remove the battery terminal boot.3. Remov ...
Inspection
SUNROOF/T-TOP/CONVERTIBLE TOP (SUNROOF) > SunshadeINSPECTION1. MOVING LOAD OF SUNSHADE ASSEMBLY1. Attach a spring scale together with a cloth to the edge of sunshade assembly.2. Pull the spring scale to check the moving load of the sunshade assembly.Moving load of sunshade assembly:14±6 N (1.43 ...
© 2016-2022 Copyright www.sucross.com