Subaru Crosstrek Service Manual: Installation
EMISSION CONTROL (AUX. EMISSION CONTROL DEVICES)(H4DO) > EGR Cooler
INSTALLATION
1. Set the gasket to the stud bolt.
NOTE: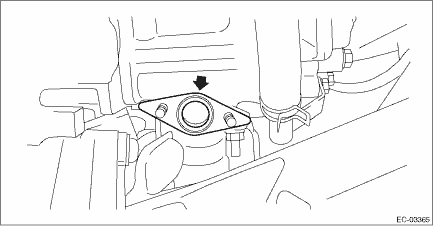 2. Temporarily tighten the bolts securing the EGR cooler to the EGR control valve and the cylinder head RH, and tighten in numerical order.
NOTE:
9 N·m (0.9 kgf-m, 6.6 ft-lb)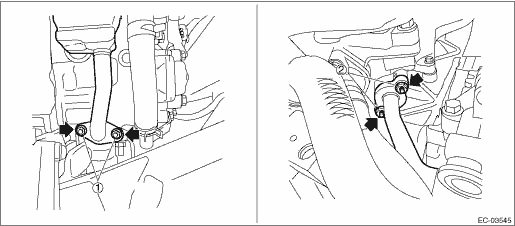 3. Connect the engine coolant hose (A), engine coolant hose (B) (CVT model) and engine coolant hose (C) to the EGR cooler.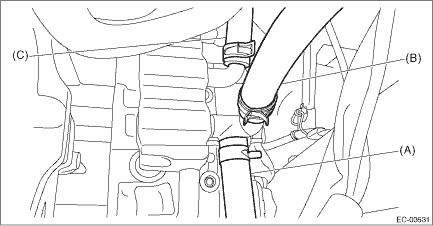 4. Install the engine rear hanger.
21 N·m (2.1 kgf-m, 15.5 ft-lb)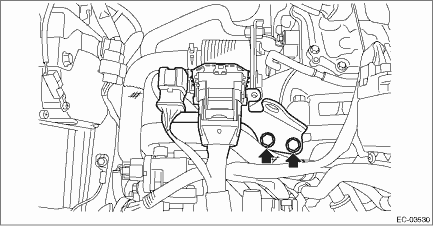 5. Connect the engine harness connector.
(1) Connect the bulkhead harness connector to the engine harness connector (black) and engine harness connector (brown).
(2) Install the bolt (A) which secures the bulkhead harness connector bracket.
7.5 N·m (0.8 kgf-m, 5.5 ft-lb)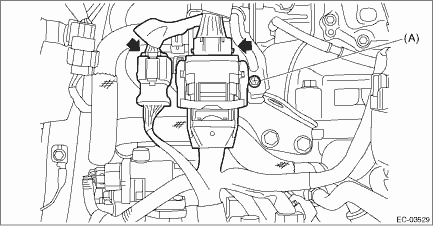 6. Secure the air breather hose to the engine rear hanger using clip. (MT model)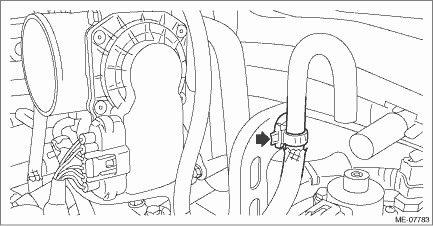 7. Install the air intake boot. Air Intake Boot > INSTALLATION">

8. Install the center exhaust pipe. Center Exhaust Pipe > INSTALLATION">

10. Connect the battery ground terminal. NOTE">

11. Fill engine coolant. Engine Coolant > REPLACEMENT">

EMISSION CONTROL (AUX. EMISSION CONTROL DEVICES)(H4DO) > EGR CoolerREMOVAL1. Disconnect the ground cable from battery.2. Drain engine coolant. Engine Coolant > REPLACEMENT">3. Remove th ...
Other materials:
Tilting moonroof
Raise Lower The tilting function is activated only when the moonroof is fully closed. To raise: Press the rear side of the "UP/DOWN" switch momentarily. The moonroof raises completely. To lower: Press and hold the front side of the "UP/ DOWN" switch until the preferred positi ...
Dtc b1610 front sub sensor rh failure
AIRBAG SYSTEM (DIAGNOSTICS) > Diagnostic Chart with Trouble CodeDTC B1610 FRONT SUB SENSOR RH FAILUREDIAGNOSIS START CONDITION:Ignition voltage is 10 V to 16 V.DTC DETECTING CONDITION:Front sub sensor (RH) is faulty.If DTC B1610 is displayed, the circuit within the front sub sensor (RH) is faulty ...
General description
DIFFERENTIALS > Rear Differential Inspection ModeGENERAL DESCRIPTIONCAUTION:Be sure to perform rear differential inspection mode.• Follow the messages displayed on the Subaru Select Monitor when working.• "Rear differential inspection mode" using the Subaru Select Monitor ...
© 2016-2022 Copyright www.sucross.com