Subaru Crosstrek Service Manual: Installation
DRIVE SHAFT SYSTEM > Rear Drive Shaft
INSTALLATION
1. Replace the rear differential side oil seal. Rear Differential Side Oil Seal > REPLACEMENT">

NOTE:
After pulling out the drive shaft assembly, be sure to replace with a new oil seal.
2. Insert the drive shaft assembly into the rear hub spline, and pull it into the specified position.
CAUTION:
• Be careful not to damage the magnetic encoder.
• Do not get closer the tool which charged magnetism to magnetic encoder.
• Do not hammer the drive shaft assembly when installing.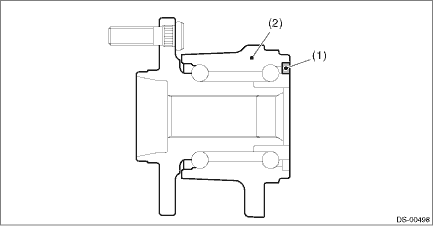 | | | | | | |
| --- | --- | --- | --- | --- | --- |
| (1) | Magnetic encoder | (2) | Rear hub unit bearing | | |
3. Tighten the axle nut temporarily.
4. Using the ST, install the rear drive shaft assembly to the rear differential.
ST: OIL SEAL PROTECTOR (28099PA090)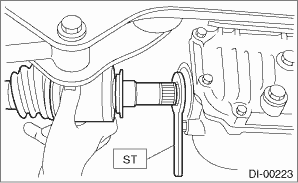 5. Install the rear differential assembly to the rear sub frame assembly.
CAUTION:
Be sure to use a new self-locking nut.
Differential assembly — bushing - differential: 70 N·m (7.1 kgf-m, 51.6 ft-lb)
Differential assembly — rear sub frame assembly: 110 N·m (11.2 kgf-m, 81.1 ft-lb)
6. Install the sensor assembly - headlight beam leveler.
7.5 N·m (0.8 kgf-m, 5.5 ft-lb)
7. While pressing the brake pedal, tighten the new axle nuts to the specified torque.
CAUTION:
Do not load the rear axle before tightening the axle nut. Doing so may damage the hub unit bearing.
190 N·m (19.4 kgf-m, 140.1 ft-lb)
8. Lock the axle nut securely.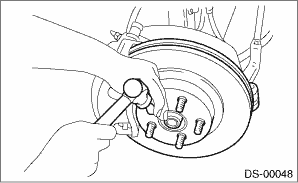 9. Fill differential gear oil.
10. Install the rear wheels.
Except for C4 model: 120 N·m (12.2 kgf-m, 88.5 ft-lb)
C4 model: 100 N·m (10.2 kgf-m, 73.8 ft-lb)
11. Perform reinitialization of the auto headlight beam leveler system. (Model with auto headlight beam leveler) Auto Headlight Beam Leveler System > PROCEDURE">

DRIVE SHAFT SYSTEM > Rear Drive ShaftINSPECTIONCheck the removed parts for damage, wear, corrosion etc. Repair or replace if defective.• DOJ (Double Offset Joint):Check for seizure, corrosion ...
Other materials:
Operation
Blind Spot Detection/Rear Cross Traffic Alert (DIAGNOSTICS) > Read Current DataOPERATION1. On «Start» display, select «Diagnosis».2. On «Vehicle selection» display, input the target vehicle information and select «Confirmed».3. On «Main Menu» display, select «Each System».4. On «Sele ...
Dtc c0028 rear left abs sensor signal
VEHICLE DYNAMICS CONTROL (VDC) (DIAGNOSTICS) > Diagnostic Procedure with Diagnostic Trouble Code (DTC)DTC C0028 REAR LEFT ABS SENSOR SIGNALDTC DETECTING CONDITION:• Defective ABS wheel speed sensor signal (noise, irregular signal, etc.)• Defective harness connectorTROUBLE SYMPTOM:&bul ...
Using the cover
To extend the cover, pull the end of the cover out of the housing, then insert its hooks into the catches as shown. To rewind it, unhook it from the catches and it will rewind automatically. You should hold on to the cover and guide it back into the cover housing while it is rewinding. WA ...
© 2016-2022 Copyright www.sucross.com