Subaru Crosstrek Service Manual: Installation
DRIVE SHAFT SYSTEM > Propeller Shaft
INSTALLATION
1. Before installation, check the following items, and replace the propeller shaft assembly as necessary.
• Dents or cracks on the tube surface
• Splines for deformation or abnormal wear
• Unsmooth joint operation or abnormal noise
• Center bearing for free play, noise or non-smooth operation.
• Oil seals for abnormal wear or damage
• Damaged center bearing
2. Apply fluid or gear oil to the oil seal lip and the propeller shaft.
• CVT model: SUBARU CVT OIL FOR LINEARTRONIC
• MT model: GL-5
3. Insert the sleeve yoke into the transmission and attach center bearing to body.
52 N·m (5.3 kgf-m, 38.4 ft-lb)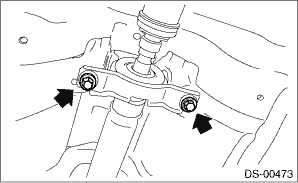 4. Align the alignment marks (A), and connect the yoke flange and rear differential.
31 N·m (3.2 kgf-m, 22.9 ft-lb)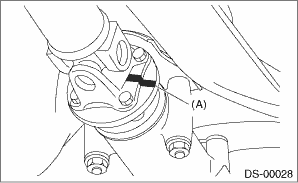 5. Check the propeller shaft with the propeller shaft installed to the vehicle. Propeller Shaft > INSPECTION">

6. Install the center exhaust cover.
18 N·m (1.8 kgf-m, 13.3 ft-lb)
7. Install the center exhaust pipe, rear exhaust pipe and muffler.
• Center exhaust pipe & rear exhaust pipe: Rear Exhaust Pipe > INSTALLATION">

• Muffler: Muffler > INSTALLATION">

8. Install the under cover - front.
CAUTION:
Install so that the front end of the under cover (b) comes inside the bumper face - front (a), and the front end of the mud guard (c) comes outside the bumper face - front (a).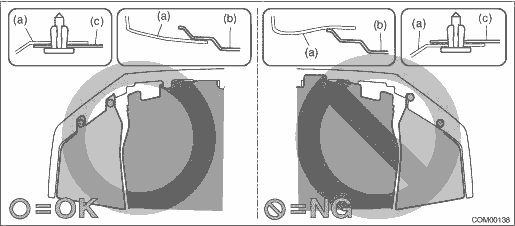 18 N·m (1.84 kgf-m, 13.3 ft-lb)
DRIVE SHAFT SYSTEM > Propeller ShaftREMOVALCAUTION:• Before removing propeller shaft, wrap metal parts with a cloth or rubber material.• Do not disassemble the center EDJ of the propell ...
Other materials:
Bluetooth audio
The Bluetooth audio system enables users to enjoy listening to music that is played on a portable player on the vehicle speakers via wireless communication. This audio system supports Bluetooth, a wireless data system capable of playing portable audio music without cables. If your device do ...
Vehicle load limit - how to determine
The load capacity of your vehicle is determined by weight, not by available cargo space. The load limit of your vehicle is shown on the vehicle placard attached to the driver's side door pillar. Locate the statement "The combined weight of occupants and cargo should never exceed XXX kg or XX ...
Wiring diagram
ENTERTAINMENT > Audio SystemWIRING DIAGRAM1. AUDIORefer to "Audio System" in the wiring diagram.• 6.2 inch display: Audio System > WIRING DIAGRAM">• 7 inch display (model without telematics): Audio System > WIRING DIAGRAM">• 7 inch display (mo ...
© 2016-2022 Copyright www.sucross.com