Subaru Crosstrek Service Manual: Installation
CONTINUOUSLY VARIABLE TRANSMISSION(TR580) > Oil Pan and Strainer
INSTALLATION
1. Clean the mating surface of oil pan and transmission case.
2. Install the O-ring to the oil strainer.
NOTE:
• Use new O-rings.
• Apply CVTF to the O-rings.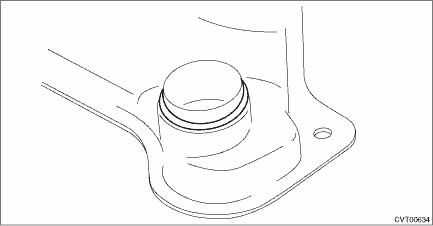 3. Install the oil strainer.
9 N·m (0.9 kgf-m, 6.6 ft-lb)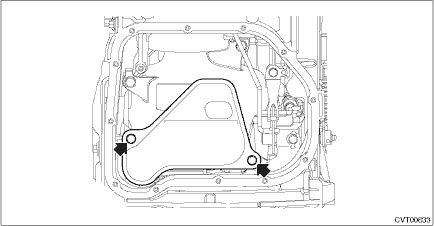 5. Attach the magnet at the specified position of the oil pan.
6. Apply liquid gasket all around the oil pan mating surface seamlessly.
THREE BOND 1217B (Part No. K0877YA020) or equivalent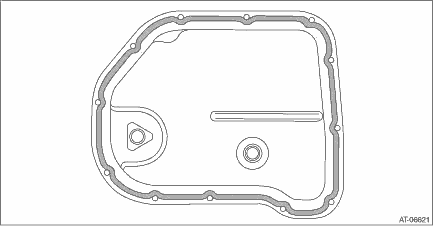 7. Install the oil pan by equally tightening the bolts.
5 N·m (0.5 kgf-m, 3.7 ft-lb)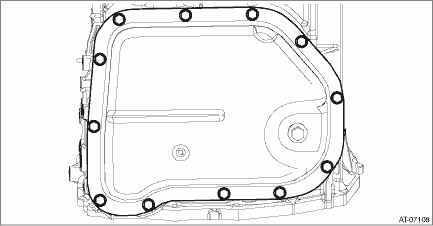 8. Refill CVTF and adjust the level. CVTF > REPLACEMENT">

CONTINUOUSLY VARIABLE TRANSMISSION(TR580) > Oil Pan and StrainerREMOVALCAUTION:• Directly after the vehicle has been running or the engine has been idling for a long time, the CVTF is hot. Be ...
Other materials:
Wiring diagram
LIGHTING SYSTEM > Interior Light SystemWIRING DIAGRAMRefer to "Interior Light System" in the wiring diagram.• Model without EyeSight: Interior Light System > WIRING DIAGRAM">• Model with EyeSight: Interior Light System > WIRING DIAGRAM"> ...
Dtc p0977 shift solenoid "b" control circuit high
CONTINUOUSLY VARIABLE TRANSMISSION (DIAGNOSTICS) > Diagnostic Procedure with Diagnostic Trouble Code (DTC)DTC P0977 SHIFT SOLENOID "B" CONTROL CIRCUIT HIGHDTC detecting condition:Immediately at fault recognitionTrouble symptom:Gear is not changed. (No down-shift)CAUTION:Use the check bo ...
Windows
WARNING To avoid serious personal injury caused by entrapment, always conform to the following instructions without exception. When operating the power windows, be extremely careful to prevent anyone's fingers, arms, neck, head or other objects from being caught in the window. Alwa ...
© 2016-2022 Copyright www.sucross.com