Subaru Crosstrek Service Manual: Installation
CLUTCH SYSTEM > Operating Cylinder
INSTALLATION
1. Install in the reverse order of removal.
NOTE:
• Before installing the operating cylinder, apply grease to the contact point of the release lever and operating cylinder.
NICHIMOLY N-130 or equivalent
• Be sure to install the clutch hose with the mark side facing upward.
• Be careful not to twist the clutch hose during installation.
• Use a new gasket.
T1: 18 N·m (1.8 kgf-m, 13.3 ft-lb)
T2: 37 N·m (3.8 kgf-m, 27.3 ft-lb)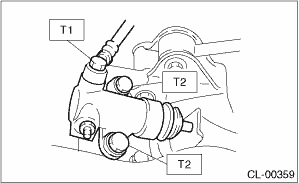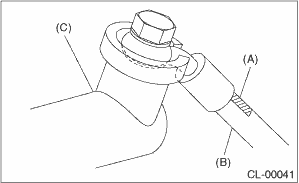 | | |
| --- | --- |
| (A) | Mark |
| (B) | Clutch hose |
| (C) | Operating cylinder |
Air intake boot
3 N·m (0.3 kgf-m, 2.2 ft-lb)
2. After bleeding air from the operating cylinder, ensure that the clutch operates properly. Clutch Fluid Air Bleeding">

CLUTCH SYSTEM > Operating CylinderINSPECTION1. Check that the operating cylinder is not damaged. Replace the operating cylinder if it is damaged.2. Check the brake fluid leakage on the operating cy ...
Other materials:
Electrical specification
AUTO HEADLIGHT BEAM LEVELER SYSTEM (DIAGNOSTICS) > Control Module I/O SignalELECTRICAL SPECIFICATION1. AUTO HEADLIGHT BEAM LEVELER CMContentTerminal No.Measuring conditionStandardIG power supply1 ←> Chassis groundIgnition switch ON8 — 16 VGND2 ←> Chassis groundAlwaysLess than 1 ...
Adjustment
WIPER AND WASHER SYSTEMS > Front Washer Nozzle and HoseADJUSTMENT1. NOZZLE - WINDSHIELD WASHER1. Turn the wiper switch to OFF position.2. While the vehicle is at a standstill, insert a precision screwdriver (A) or equivalent wrapped with protective tape into the clearance on the upper/lower side ...
Inspection
MANUAL TRANSMISSION AND DIFFERENTIAL(5MT) > Switches and HarnessINSPECTION1. BACK-UP LIGHT SWITCH1. Turn the ignition switch to OFF.2. Disconnect the back light switch connector.3. Measure the resistance between the back-up light switch terminals.Gear shift positionTerminal No.Specified resistanc ...
© 2016-2022 Copyright www.sucross.com