Subaru Crosstrek Service Manual: Inspection
AIRBAG SYSTEM > Roll Connector
INSPECTION
1. VISUAL INSPECTION
Check for the following, and replace the damaged parts with new parts.
• Combination switch is cracked or deformed.
• Roll connector is cracked or deformed.
2. UNIT INSPECTION OF ROLL CONNECTOR
CAUTION:
• Do not rotate the roll connector to more than the specified number of turns. Otherwise, the roll connector internal wire may be broken.
• When determining the end stop, rotate the connector slowly without applying excessive force. Applying excessive force at the end stop may break the internal wire.
1. Adjust the roll connector. Roll Connector > ADJUSTMENT">

2. Set the roll connector to the central position.
3. Connect the test harness to the connector E and connector F.
Test harness N (98299SA000)
Test harness Q (98299SA040)
• Connector E - Test harness N (1N)
• Connector F - Test harness Q (1Q)
4. With the following conditions, check the resistance between the test harness connector terminals.
• Perform the check with the roll connector centered (front wheels direct straightforward).
• Rotate the roll connector counterclockwise from the center (front wheels direct straightforward) to an end stop. Then, perform the check while rotating it clockwise to approximately 4.5 turns.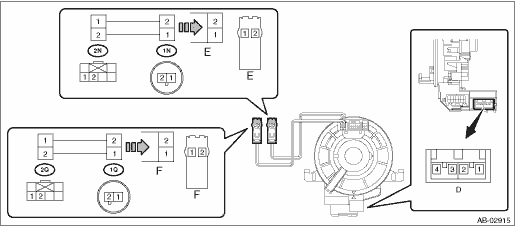 | | | |
| --- | --- | --- |
| Terminal No. | Inspection conditions | Standard |
| (2N) No. 1 — (2N) No. 2 | Always | Less than 1 ? |
| (2Q) No. 1 — (2Q) No. 2 | Always | Less than 1 ? |
NOTE:
The connector D is designed to short the terminals D1/D2 and D3/D4 when disconnected.
5. Replace the roll connector with a new part if the inspection result is not within the standard value.
AIRBAG SYSTEM > Roll ConnectorREMOVALCAUTION:Before handling the airbag system components, refer to "CAUTION" of "General Description" in "AIRBAG SYSTEM". Gener ...
AIRBAG SYSTEM > Roll ConnectorINSTALLATIONCAUTION:If the steering wheel and steering angle sensor (steering roll connector) are removed, be sure to perform the following operations.• Align th ...
Other materials:
Removal
EXTERIOR/INTERIOR TRIM > Roof MoldingREMOVALCAUTION:Be careful not to damage the body.1. Remove the roof rail assembly. (model with roof rail) Roof Rail > REMOVAL">2. Turn over the front end of the molding - roof.3. Slide the inner fastener in the direction of the arrow using a flat t ...
Preparation tool
POWER ASSISTED SYSTEM (POWER STEERING) (DIAGNOSTICS) > General DescriptionPREPARATION TOOL1. SPECIAL TOOLILLUSTRATIONTOOL NUMBERDESCRIPTIONREMARKS — SUBARU SELECT MONITOR 4Used for setting of each function and troubleshooting for electrical system.NOTE:For detailed operation procedures of Subar ...
Tire rotation
Vehicles equipped with 4 non-unidirectional tires Front Vehicles equipped with unidirectional tires Front Tire wear varies from wheel to wheel. Move the tires to the positions shown in the illustration each time they are rotated. For the tire rotation schedule, refer to ...
© 2016-2022 Copyright www.sucross.com