Subaru Crosstrek Service Manual: Inspection
SEATS > Front Seat
INSPECTION
1. SEAT COVER
Check that there is no tear or fray on the cover COMPL - front backrest and the cover - front cushion.
NOTE:
For model with side airbag, if the door side of the cover COMPL - front backrest is torn or frayed, the side airbag may not be deployed properly. In this case, replace the cover COMPL - front backrest with a new part.
2. CHECK ILLUMINATION OF PASSENGER'S SEAT BELT WARNING LIGHT
Check that the passenger's seat belt warning light illuminates when the passenger's seat is occupied.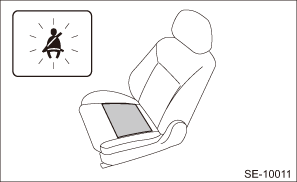 If it does not illuminate, check the seat belt warning system and the occupant detection system.
• Seat belt warning system: Seat Belt Warning System">

• Occupant detection system: Basic Diagnostic Procedure">

3. FLAT MAT HOOK
Check the flat mat hook by applying weight to the backrest assembly.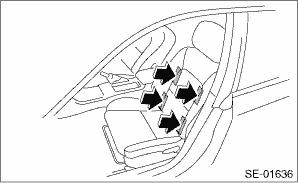 NOTE:
If the appropriate stiffness is not obtained by applying weight to the backrest assembly, the hook may be disengaged.
If it is due to the deformation of the hook, replace the hook with a new part.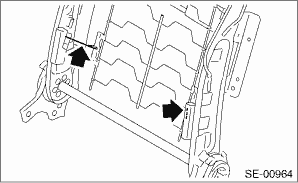 SEATS > Front SeatDISASSEMBLY1. DRIVER'S SEATCAUTION:Before assembling, make sure how the harnesses such as the side airbag harness and the seat belt inner - front harness are routed in order ...
SEATS > Front SeatINSTALLATIONInstall each part in the reverse order of removal.CAUTION:• The front seat mounting bolts differ between the front mounting points and the rear mounting points. ...
Other materials:
Steering angle sensor Replacement
VEHICLE DYNAMICS CONTROL (VDC) > Steering Angle SensorREPLACEMENTCAUTION:• If the steering wheel and steering angle sensor are removed, perform the following VDC setting mode.– Model without EyeSight: VDC sensor midpoint setting mode VDC Control Module and Hydraulic Control Unit (VDCCM& ...
Shift lock release
If the select lever cannot be operated, turn the ignition switch back to the "ON" position then move the select lever to the "P" position with the select lever button pressed and brake pedal depressed. If the select lever does not move after performing the above procedure, perform the follo ...
Removal
MECHANICAL(H4DO) > Cam SprocketREMOVAL1. CAM SPROCKET RHNOTE:When replacing a single part, perform the work with the engine assembly installed to body.• Intake cam sprocket RH1. Remove the chain cover. Chain Cover > REMOVAL">2. Remove the timing chain RH. Timing Chain Assembly ...
© 2016-2022 Copyright www.sucross.com