Subaru Crosstrek Service Manual: Inspection
EMISSION CONTROL (AUX. EMISSION CONTROL DEVICES)(H4DO) > PCV Valve
INSPECTION
1. Check that the PCV valve has no deformation, cracks or other damages.
2. Check that air is discharged from (B) when air is blown into (A).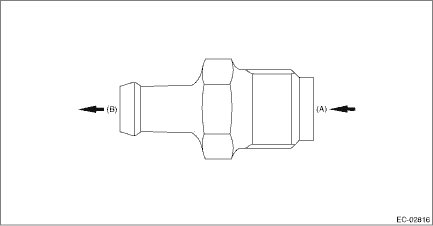 3. Check that air does not come out from (B) when air is blown into (A).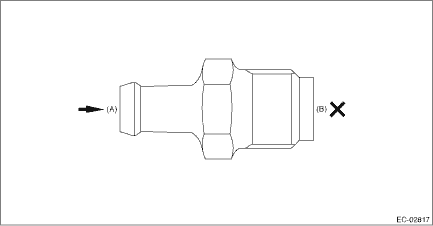 2. OTHER INSPECTIONS
Check that the PCV hose has no cracks, damage or loose part.
EMISSION CONTROL (AUX. EMISSION CONTROL DEVICES)(H4DO) > PCV ValveREMOVALCAUTION:Do not remove unless the PCV valve is broken.1. Disconnect the PCV hose from the intake manifold and the PCV valve, ...
Other materials:
Antenna cord Location
WIRING SYSTEM > Antenna CordLOCATION1. WITHOUT TELEMATICSConnectorConnecting toNo.PoleColorAreaNo.DescriptionAN13B-2 Audio3B-2 Navigation unitAN21B-2 Audio1B-2 Navigation unitAN31B-2AN4Antenna cordAN41B-2AN3AN51B-1AN6AN61B-1AN5AN73C-3AN9AN93C-4AN7AN101C-4R97AN113B-4AN15AntennaAN153B-4AN11Antenna ...
Assembly
BRAKE > Front Disc Brake AssemblyASSEMBLY1. Before assembly, check each part. Front Disc Brake Assembly > INSPECTION">2. Clean the inside of the caliper body cylinder using brake fluid.3. Apply a coat of brake fluid to piston seal and install the piston seal to the caliper body cylind ...
Inspection
CLUTCH SYSTEM > Clutch SwitchINSPECTION1. CLUTCH START SWITCH1. Perform the following inspections. If the clutch start switch does not operate normally, adjust the switch, and check it again. Clutch Switch > ADJUSTMENT">• Make sure that engine does not start with clutch pedal no ...
© 2016-2022 Copyright www.sucross.com