Subaru Crosstrek Service Manual: Inspection
DIFFERENTIALS > Differential Gear Oil
INSPECTION
2. Remove the filler plug, and then check the gear oil. Replace the gear oil if it is contaminated, deteriorated or cloudy. Differential Gear Oil > REPLACEMENT">

3. Check that the gear oil level is within −5 mm (−0.2 in) from the bottom of the filler plug hole. If the level is low, make sure that there is no oil leakage and refill up to the bottom of filler plug hole.
NOTE:
On VA1-types at factory settings, the oil level may be within −14 mm (−0.6 in) from the bottom of the filler plug. This is at normal level, requiring no oil refill.
• VA1-type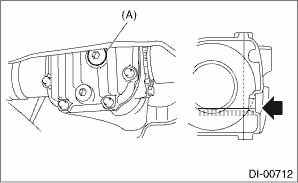 4. Install the filler plug.
NOTE:
• For the T-type, degrease the thread portion sufficiently and apply liquid gasket to the filler plug.
THREE BOND 1105 (Part No. 004403010) or equivalent
• For VA1 type, use a new gasket.
T-type:
49 N·m (5.0 kgf-m, 36.1 ft-lb)
VA1-type:
50 N·m (5.1 kgf-m, 36.9 ft-lb)
DIFFERENTIALS > Differential Gear OilREPLACEMENTCAUTION:• Gear oil is extremely hot just after driving. Be wary of receiving burns.• Be careful not to spill the differential gear oil on ...
Other materials:
Temperature control
Type A Turn the temperature control dial over a range from the blue side (cool) to red side (warm) to regulate the temperature of airflow from the air outlets. Type B, C and D Turn the temperature control dial to set the preferred interior temperature. With the dial set to your preferred tem ...
Dtc c0081 system failure
VEHICLE DYNAMICS CONTROL (VDC) (DIAGNOSTICS) > Diagnostic Procedure with Diagnostic Trouble Code (DTC)DTC C0081 SYSTEM FAILUREDTC detecting condition:VDC long time sequential controlTrouble symptom:• VDC does not operate.• EyeSight does not operate.STEPCHECKYESNO1.CHECK INSTALLATION O ...
Removal
EXTERIOR/INTERIOR TRIM > Front Under CoverREMOVAL1. Lift up the vehicle.2. Remove the bolts and clips, and remove the under cover - front.(1)Under cover - front(2)Mud guard - front(3)Spacer - under cover ...
© 2016-2022 Copyright www.sucross.com