Subaru Crosstrek Service Manual: Inspection
COOLING(H4DO) > Radiator
INSPECTION
1. Check that the radiator does not have deformation, cracks or damage.
2. Check that the hose has no cracks, damage or loose part.
3. Remove the radiator cap, fill the radiator with engine coolant, and then install the radiator cap tester to the filler neck of radiator.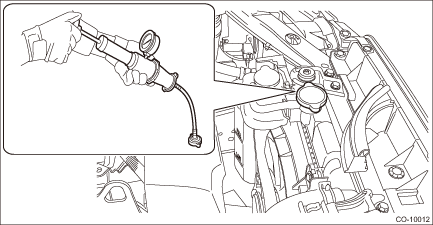 4. Apply a pressure of 157 kPa (1.6 kg/cm2, 23 psi) to the radiator and check the following points:
• Leakage from the radiator or its vicinity
• Leakage from the hose or its connections
CAUTION:
• Engine should be turned off.
• Wipe engine coolant from check points in advance.
• Be careful not to deform the filler neck of radiator when installing and removing the radiator cap tester.
• Be careful of engine coolant from spurting out when removing the radiator cap tester.
COOLING(H4DO) > RadiatorREMOVALCAUTION:The radiator is pressurized when the engine and radiator are hot. Wait until engine and radiator cool down before working on the radiator.1. Disconnect the gr ...
Other materials:
Fuel Procedure
FUEL INJECTION (FUEL SYSTEMS)(H4DO) > FuelPROCEDURE1. RELEASING OF FUEL PRESSUREWARNING:Place "NO OPEN FLAMES" signs near the working area.CAUTION:Be careful not to spill fuel.1. Remove the fuse of fuel pump from main fuse box.2. Start the engine and run it until it stalls.3. After th ...
Preparation for overhaul Procedure
MANUAL TRANSMISSION AND DIFFERENTIAL(5MT) > Preparation for OverhaulPROCEDURE1. Clean oil, grease, dirt and dust from the transmission.2. When transmission gear oil remains in the transmission, using the TORX® bit T70, remove the drain plug, and drain the gear oil completely.3. Attach the drain ...
Keyless access system Wiring diagram
WIRING SYSTEM > Keyless Access SystemWIRING DIAGRAM ...
© 2016-2022 Copyright www.sucross.com