Subaru Crosstrek Service Manual: Inspection
CONTROL SYSTEMS > MT Gear Shift Lever
INSPECTION
1. Check the parts (bushing, cushion rubber, spacer, boot, stay and rod, etc.) for deformation, damage and wear. If necessary, correct or replace faulty parts. Compare the removed parts with new parts to judge if there are damages or not.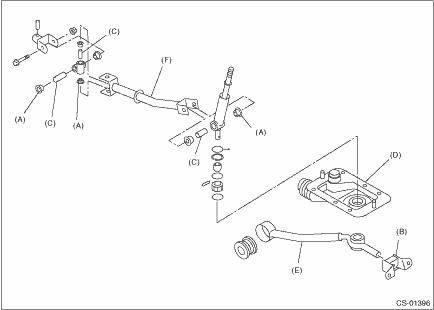 | | |
| --- | --- |
| (A) | Bushing |
| (B) | Cushion rubber |
| (C) | Spacer |
| (D) | Boot |
| (E) | Stay |
| (F) | Rod |
2. Check the swing torque of rod linked with the gear shift lever. If the torque exceeds the specifications, replace the bushing or retighten nuts.
3.7 N (0.38 kgf, 0.83 lbf) or less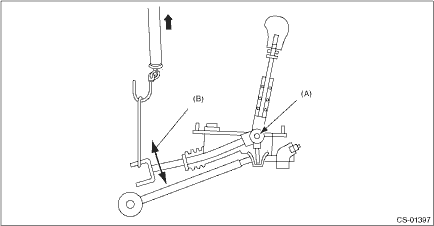 CONTROL SYSTEMS > MT Gear Shift LeverDISASSEMBLY1. Remove the lock wires.(A)Lock wire2. Remove the rod from gear shift lever.(A)Rod(B)Lever(C)Stay3. Separate the rod and inner boot.4. Remove the sn ...
CONTROL SYSTEMS > MT Gear Shift LeverINSTALLATION1. Insert the gear shift lever from the room side.NOTE:Insert the rod and the stay, and then temporarily set them onto the transmission mount.2. Lif ...
Other materials:
Engine control module (ecm) i/o signal Electrical specification
ENGINE (DIAGNOSTICS)(H4DO) > Engine Control Module (ECM) I/O SignalELECTRICAL SPECIFICATION1. ENGINE CONTROL MODULE (ECM)DescriptionConnector No.Terminal No.Signal (V)NoteIgnition SW ON(Engine OFF)Engine ON(Idling)Crankshaft position sensor(+) signalB1361650 or 5Waveform*(−) signalB1362700 ...
Installation
WIPER AND WASHER SYSTEMS > Front Wiper ArmINSTALLATION1. MODELS WITHOUT EyeSight1. Install the arm assembly - windshield wiper.(1) Assemble the arm assembly - windshield wiper so that the blade assembly - windshield wiper is aligned to the ceramic print point mark of the windshield glass.(2) Tigh ...
Installation
STARTING/CHARGING SYSTEMS(H4DO) > StarterINSTALLATIONInstall in the reverse order of removal.NOTE:• For CVT model, a nut is used at (a).• Tighten the starter and cable stay (b) together using the upper bolt securing the starter.Tightening torque:T1: 14 N·m (1.4 kgf-m, 10.3 ft-l ...
© 2016-2022 Copyright www.sucross.com