Subaru Crosstrek Service Manual: Inspection
CONTINUOUSLY VARIABLE TRANSMISSION(TR580) > Turbine Speed Sensor
INSPECTION
1. Set the ST between the TCM and bulkhead harness.
2. Set the probe of oscilloscope to the check board connector.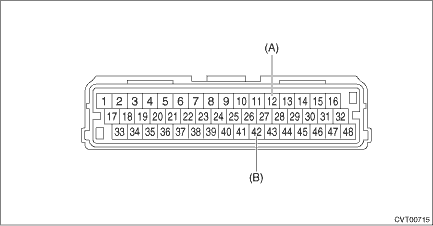 3. Start and warm up the engine.
4. Check the waveform and output voltage of the turbine speed sensor with engine idling.
NOTE:
The waveform cycle changes as the speed changes.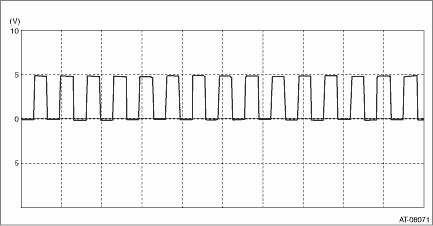 CONTINUOUSLY VARIABLE TRANSMISSION(TR580) > Turbine Speed SensorREMOVALCAUTION:Be sure to prevent water or oil from contacting the connector terminal of turbine speed sensor. If adhesion occurs, re ...
Other materials:
Electrical specification
CONTROL SYSTEMS > AT Shift Lock Control SystemELECTRICAL SPECIFICATION• Model without push button ignition switchItemConnector No.Terminal No.Input/Output signalMeasured value and measuring conditionsBattery power supplyB28169 — 16 V7i846Ignition power supplyB2803210 — 15 V when ignitio ...
Adjustment
MANUAL TRANSMISSION AND DIFFERENTIAL(5MT) > Reverse Idler GearADJUSTMENT1. Select the appropriate reverse shifter lever from the table below, and adjust until the clearance between the reverse idler gear and transmission case wall is within specification.Clearance A:6.0 — 7.5 mm (0.236 — 0.29 ...
Ornament Installation
EXTERIOR/INTERIOR TRIM > OrnamentINSTALLATION1. LETTER MARKAlign the end of application tape with the end of panel, then adhere the letter mark.(a)Panel - rear gate end(b)Application tape end NOTE:• Align the cutout of application tape with the end reference of the front door. (a)• A ...
© 2016-2022 Copyright www.sucross.com