Subaru Crosstrek Service Manual: Inspection
CONTINUOUSLY VARIABLE TRANSMISSION(TR580) > Transfer Clutch
INSPECTION
• Inspect the drive plate facing for wear and damage.
• Driven plate for discoloration (burned color)
• Make sure the snap ring is not worn and the return spring has no permanent distortion, damage, or deformation.
• Check the lip seal for damage.
• Inspect the extension end play, and adjust it to within the standard value. Transfer Clutch > ADJUSTMENT">

1. Before measuring clearance "A" between snap ring and driven plate, place same thickness shims on both sides to prevent the plate from tilting.
2. When clearance "A" exceeds the limit for use, replace the drive plate and driven plate as a set, and select the pressure plate within the initial specified value.
0.7 — 1.1 mm (0.028 — 0.043 in)
Limit thickness: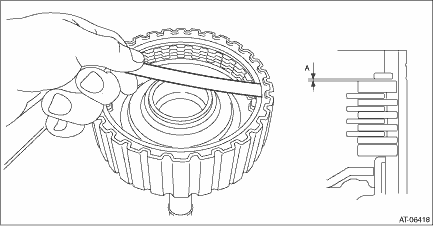 3. Check for tight corner braking phenomenon when the vehicle is moved forward with the steering fully turned. If tight corner braking occurs, perform the following procedures.
(1) With the steering wheel held at fully turned position, drive the vehicle in "D" range and with vehicle speed at approx. 5 km/h (3 MPH) in both clockwise and counterclockwise directions for approx. ten times each, while repeating acceleration and braking intermittently.
(2) If the tight corner braking phenomenon still persists, drive the vehicle again in a circle for several laps.
CONTINUOUSLY VARIABLE TRANSMISSION(TR580) > Transfer ClutchDISASSEMBLY1. Remove the snap ring, and then remove the pressure plate, drive plate and driven plate.(A)Snap ring2. Compress the return sp ...
CONTINUOUSLY VARIABLE TRANSMISSION(TR580) > Transfer ClutchINSTALLATION1. Install the thrust bearing.NOTE:Make sure to install in the right direction.2. Install the transfer clutch assembly.3. Sele ...
Other materials:
Caution
CONTINUOUSLY VARIABLE TRANSMISSION(TR580) > General DescriptionCAUTION• Remove contamination including dirt and corrosion before removal, installation or disassembly.• Keep the disassembled parts in order and protect them from dust and dirt.• Do not place the valve cover with it ...
SRS airbag system servicing
WARNING When discarding an airbag module or scrapping the entire vehicle damaged by a collision, consult your SUBARU dealer. The SRS airbag has no userserviceable parts. Do not use electrical test equipment on any circuit related to the SRS airbag system. For required servicing o ...
Dtc c1251 wheel speed sensor system
VEHICLE DYNAMICS CONTROL (VDC) (DIAGNOSTICS) > Diagnostic Procedure with Diagnostic Trouble Code (DTC)DTC C1251 WHEEL SPEED SENSOR SYSTEMNOTE:For the diagnostic procedure, refer to "DTC C1241 REAR LEFT ABS SENSOR CIRCUIT". Diagnostic Procedure with Diagnostic Trouble Code (DTC) > ...
© 2016-2022 Copyright www.sucross.com