Subaru Crosstrek Service Manual: Inspection
CONTINUOUSLY VARIABLE TRANSMISSION(TR580) > Front Differential Assembly
INSPECTION
• Check each component for scratches, damage or other faults.
• Using the ST, check the backlash of pinion gear.
0.13 — 0.18 mm (0.0051 — 0.0071 in)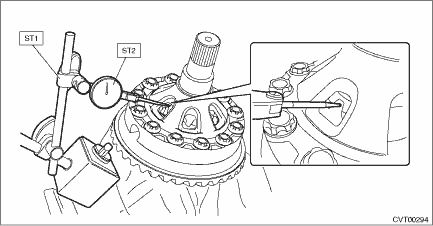 • Measure the hypoid gear backlash, and then adjust it to be within specification. Front Differential Assembly > ADJUSTMENT">

CONTINUOUSLY VARIABLE TRANSMISSION(TR580) > Front Differential AssemblyDISASSEMBLY1. DIFFERENTIAL CASE ASSEMBLY1. Remove the taper roller bearing using the ST.ST1 498077000REMOVERST2 89986410 ...
CONTINUOUSLY VARIABLE TRANSMISSION(TR580) > Front Differential AssemblyINSTALLATION1. Install the front differential assembly to the converter case.NOTE:Be careful not to damage the inside of the c ...
Other materials:
Inspection
Blind Spot Detection/Rear Cross Traffic Alert (DIAGNOSTICS) > Subaru Select MonitorINSPECTION1. COMMUNICATION FOR INITIALIZING IMPOSSIBLEWhen communication with the radar sensor is impossibleDetecting condition:• Defective harness connector• Power supply circuit malfunction• Def ...
Removal
ENTERTAINMENT > External Connection TerminalREMOVAL1. Disconnect the ground cable from battery and wait for at least 60 seconds before starting work. NOTE">2. Remove the console box assembly. Console Box > REMOVAL">3. While pressing the claw, press it in from the rear to remo ...
Assembly
EXHAUST(H4DO) > Front Exhaust PipeASSEMBLY1. Install each cover to the front exhaust pipe.Tightening torque:13 N·m (1.3 kgf-m, 9.6 ft-lb)(A)Front exhaust pipe upper cover(E)Front catalytic converter lower cover LH(H)Front exhaust pipe side cover LH (rear)(B)Front catalytic converter upper ...
© 2016-2022 Copyright www.sucross.com