Subaru Crosstrek Service Manual: Inspection
CLUTCH SYSTEM > Release Bearing and Lever
INSPECTION
1. RELEASE BEARING
CAUTION:
Since this bearing is grease-sealed and is a non-lubrication type, do not wash with gasoline or any other solvent when servicing the clutch.
1. Check the bearing for smooth movement by applying force to the bearing in the radial direction.
1.4 mm (0.055 in) or more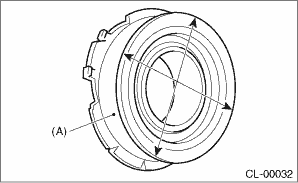 2. While applying force to the bearing in the rotational direction, check the bearing for smooth rotation.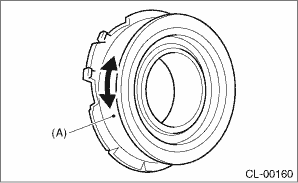 3. Check for wear and damage at the bearing case surface in contact with the lever.
2. RELEASE LEVER
Check the pivot portion of the lever and the contact area with the release bearing case for wear.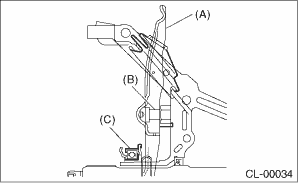 | | |
| --- | --- |
| (A) | Release lever |
| (B) | Pivot |
| (C) | Release bearing |
CLUTCH SYSTEM > Release Bearing and LeverREMOVAL1. Remove the transmission assembly from the vehicle. Manual Transmission Assembly > REMOVAL">2. Remove the two clips from the release lev ...
Other materials:
Installation
EyeSight > Stereo CameraINSTALLATIONCAUTION:• Do not remove the protective cover until just before installing the stereo camera cover assembly. Using the bolt and nut, install the stereo camera with the protective cover attached, connect the connectors, and then remove the protective cover. ...
Installation
MANUAL TRANSMISSION AND DIFFERENTIAL(5MT) > Transfer Case and Extension Case AssemblyINSTALLATION1. Clean the mating surfaces of the transmission case, transfer case and extension case.2. Apply a coat of grease to the taper roller bearing (transfer case side) of transfer driven gear and the rolle ...
Caution
TIRE PRESSURE MONITORING SYSTEM (DIAGNOSTICS) > General DescriptionCAUTION1. SUPPLEMENTAL RESTRAINT SYSTEM "AIRBAG"Airbag system wiring harness is routed near the TPM control module.CAUTION:• Do not use electrical test equipment on any of the airbag system wiring harness circuit ...
© 2016-2022 Copyright www.sucross.com