Subaru Crosstrek Service Manual: Event record data Operation
AIRBAG SYSTEM (DIAGNOSTICS) > Event Record Data
OPERATION
1. On «Start» display, select «Diagnosis».
2. On «Vehicle selection» display, input the target vehicle information and select «Confirmed».
3. On «Main Menu» display, select «Each System».
4. On «Select System» display, select «Airbag» and select «Enter».
5. On «Airbag» display, select «Work Support».
6. On «Work Support» display, select «Event Record Data». After selection, «IMPORTANT NOTICE» screen is displayed.
7. After checking the content of «IMPORTANT NOTICE», click the checkbox for "Yes".
8. If the applicable law is not violated, click the «Yes» button to display the EDR data.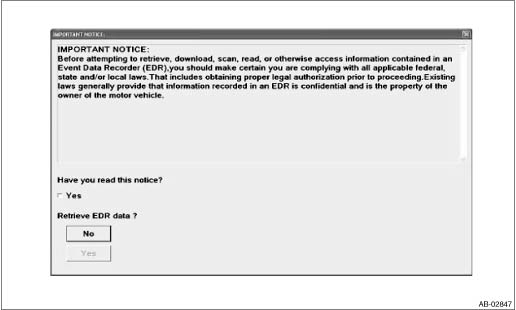 9. Select the items to be checked from each event record data.
10. Select the record data to be checked from each record data.
11. The selected record data is displayed. If there is no data recorded, «Event record data are not recorded» is displayed.
12. Select [Exit] to return to each event record data screen.
AIRBAG SYSTEM (DIAGNOSTICS) > Electrical Component LocationLOCATION(1)Front sub sensor (RH)(11)Side airbag sensor (RH)(20)Satellite safing sensor(2)Front sub sensor (LH)(12)Seat belt pretensioner ( ...
AIRBAG SYSTEM (DIAGNOSTICS) > Inspection ModePROCEDURERecreate the circumstance by referring to the conditions described in the checklist. ...
Other materials:
Removal
BRAKE > Brake PedalREMOVAL1. CVT MODELCAUTION:Before handling the airbag system components, always refer to "CAUTION" of "General Description" in "AIRBAG SYSTEM". General Description > CAUTION">1. Disconnect the ground cable from battery and wait fo ...
Installation
CONTINUOUSLY VARIABLE TRANSMISSION(TR580) > CVTF FilterINSTALLATIONNOTE:For installation of CVTF filter, refer to "Transmission Case". Transmission Case > ASSEMBLY"> Transmission Case > INSTALLATION"> ...
Removal
DRIVE SHAFT SYSTEM > Front Drive ShaftREMOVAL1. Lift up the vehicle, and then remove the front wheels.2. Remove the axle nut.CAUTION:Do not loosen the axle nut while the front axle is loaded. Doing so may damage the hub unit bearing.(1) Lift the crimped section of axle nut.(2) Remove the axle nut ...
© 2016-2022 Copyright www.sucross.com