Subaru Crosstrek Service Manual: Disassembly
EMISSION CONTROL (AUX. EMISSION CONTROL DEVICES)(H4DO) > Drain Separator
DISASSEMBLY
1. Disconnect the drain tube (A) from the leak check valve assembly.
NOTE:
Disconnect the quick connector as shown in the figure.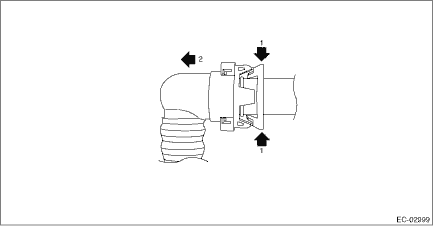 2. Lift up the claw (B) of the drain separator and slide the drain separator in the direction of the arrow (C) to remove the drain separator.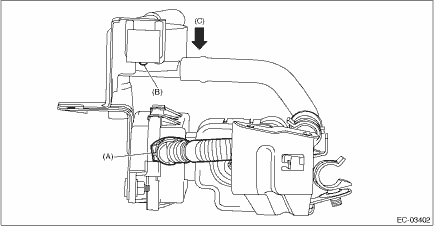 3. Remove the drain hose and drain tube from the drain separator.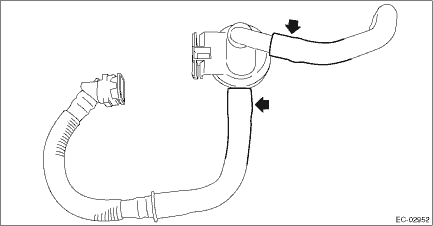 EMISSION CONTROL (AUX. EMISSION CONTROL DEVICES)(H4DO) > Drain SeparatorREMOVALThe drain separator is installed to the leak check valve assembly. Refer to "Leak Check Valve Assembly" fo ...
EMISSION CONTROL (AUX. EMISSION CONTROL DEVICES)(H4DO) > Drain SeparatorINSPECTION1. Check that the drain separator and drain separator bracket have no deformation, crack, or other damage.2. Check ...
Other materials:
Removal
WIPER AND WASHER SYSTEMS > Front Washer Nozzle and HoseREMOVAL1. NOZZLE - WINDSHIELD WASHER & HOSE1. Remove the arm assembly - windshield wiper. Front Wiper Arm > REMOVAL">2. Remove the cowl panel - side and the cowl panel assembly. Cowl Panel > REMOVAL">CAUTION:Before ...
Inspection
LIGHTING SYSTEM > Combination Switch (Light)INSPECTIONMeasure the resistance between connector terminals. If it is not within the standard value, replace the switch assembly - combination turn dimmer.Preparation tool:Circuit tester1. LIGHTING SWITCHTerminal No.Inspection conditionsStandard18 — ...
Electrical component location Location
LAN SYSTEM (DIAGNOSTICS) > Electrical Component LocationLOCATION(1)VDC CM(7)Combination meter(12)Data link connector(2)Power steering CM(8)A/C control panel(13)Transmission CM(3)Stereo camera(9)MFD(14)Airbag CM(4)Radar sensor LH(10)Data communication module (DCM)(15)Engine CM(5)Auto headlight bea ...
© 2016-2022 Copyright www.sucross.com