Subaru Crosstrek Service Manual: Disassembly
DRIVE SHAFT SYSTEM > Rear Hub Unit Bearing
DISASSEMBLY
Using the ST or a hydraulic press, push out the hub bolt (b) from the rear hub unit bearing (a).
CAUTION:
• Be careful not to hammer the hub bolts. This may deform the hub unit bearing.
• Do not reuse the hub bolt.
NOTE:
Since the rear hub unit bearing can not be disassembled, only hub bolts can be removed.
ST: HUB STAND (28399AG000)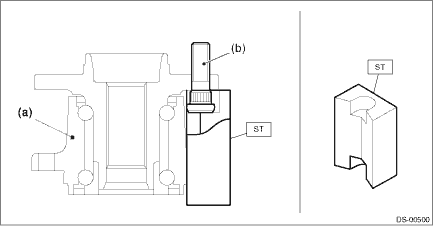 DRIVE SHAFT SYSTEM > Rear Hub Unit BearingREMOVAL1. Lift up the vehicle, and then remove the rear wheels.2. Remove the axle nut.CAUTION:Do not loosen the axle nut while the rear axle is loaded. Doi ...
DRIVE SHAFT SYSTEM > Rear Hub Unit BearingINSPECTION1. Moving the rear tire up and down by hand, check there is no looseness in bearing, and check the wheel rotates smoothly.CAUTION:If there is uns ...
Other materials:
Inspection
BRAKE > Front Brake PadINSPECTION1. Check the pad thickness (A).NOTE:• Always replace the pads of both wheels and both sides as a set.• Replace pad clips if they are twisted or worn.• Replace the pad if there is oil or grease on it. Standard (A)Wear limit (B)Pad thickness11 mm ( ...
Disassembly
MANUAL TRANSMISSION AND DIFFERENTIAL(5MT) > Transfer Case and Extension Case AssemblyDISASSEMBLY1. TRANSFER CASE1. Remove the reverse check sleeve assembly. Reverse Check Sleeve > REMOVAL">2. Remove the oil guide.3. Remove the oil seal.4. Set ST1, ST2 and transfer case to a press.NOTE ...
Compression Inspection
MECHANICAL(H4DO) > CompressionINSPECTIONCAUTION:After warming-up, engine becomes very hot. Be careful not to burn yourself during measurement.1. Turn the ignition switch to OFF.2. After warming-up the engine, turn the ignition switch to OFF.3. Make sure that the battery is fully charged.4. Check ...
© 2016-2022 Copyright www.sucross.com