Subaru Crosstrek Service Manual: Disassembly
CONTINUOUSLY VARIABLE TRANSMISSION(TR580) > Oil Pump Chain
DISASSEMBLY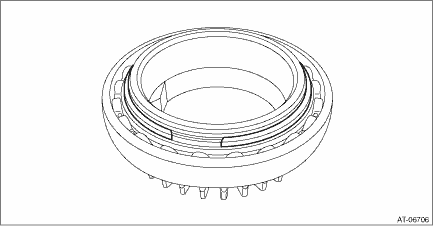 2. Remove the ball bearing using ST.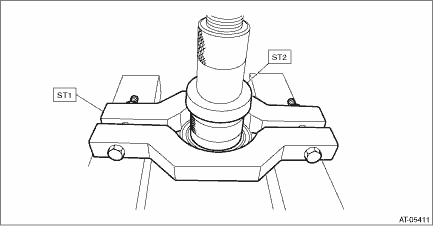 CONTINUOUSLY VARIABLE TRANSMISSION(TR580) > Oil Pump ChainREMOVAL1. Remove the transmission assembly from the vehicle. Automatic Transmission Assembly > REMOVAL">2. Remove the torque co ...
CONTINUOUSLY VARIABLE TRANSMISSION(TR580) > Oil Pump ChainINSPECTION• Check the oil pump chain for damage.• Replace if gear teeth are broken, damaged, sharpen or excessively worn.• ...
Other materials:
Removal
HVAC SYSTEM (HEATER, VENTILATOR AND A/C) > CompressorREMOVAL1. CROSSTREK MODEL1. Perform compressor oil return operation. Compressor Oil > PROCEDURE">2. Turn the A/C switch to OFF, and turn the ignition switch to OFF.3. Using the refrigerant recovery system, discharge refrigerant. Re ...
Removal
MECHANICAL(H4DO) > Rocker CoverREMOVAL1. ROCKER COVER RHNOTE:When replacing a single part, perform the work with the engine assembly installed to body.1. When working on the vehicleNOTE:When working on the vehicle, perform the following steps also.(1) Remove the air cleaner case. Air Cleaner Cas ...
Refueling in cold weather
To help prevent moisture from forming in the fuel system and the risk of its freezing, use of an antifreeze additive in the fuel tank is recommended during cold weather. Use only additives that are specifically designed for this purpose. When an antifreeze additive is used, its effect lasts ...
© 2016-2022 Copyright www.sucross.com