Subaru Crosstrek Service Manual: Disassembly
CLUTCH SYSTEM > Master Cylinder
DISASSEMBLY
1. Remove the straight pin and nipple.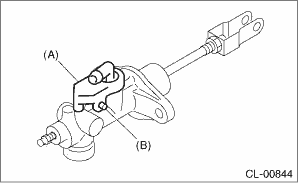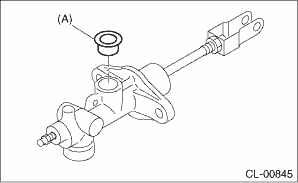 3. Move the seat towards the rear.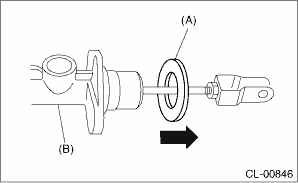 | | |
| --- | --- |
| (A) | Seat |
| (B) | Master cylinder |
4. Remove the piston stop ring.
CAUTION:
When removing the piston stop ring, be careful to prevent the rod, washer, piston and return spring from popping out.
CLUTCH SYSTEM > Master CylinderREMOVALCAUTION:• Be careful not to spill the brake fluid. Brake fluid spilled on the vehicle body will harm the paint surface; wash it off with water and wipe c ...
CLUTCH SYSTEM > Master CylinderINSPECTIONIf any damage, deformation, wear, swelling, rust or other faults are found on the cylinder, piston, push rod, nipple, return spring, bleeder screw, seat or ...
Other materials:
Component
SEATS > General DescriptionCOMPONENT1. FRONT SEAT• Manual seat LH(1)Pad ASSY - front seat backrest(15)Cover - hinge front seat OUT(29)Pad ASSY - front seat cushion(2)Cover COMPL - front backrest(16)Lever - reclining(30)Heater unit - front seat backrest(3)Cover - silencer front seat backrest ...
Caution
HVAC SYSTEM (AUTO A/C) (DIAGNOSTICS) > General DescriptionCAUTION1. Never connect the battery in reverse polarity.• Doing so may immediately damage the A/C control panel.2. Do not disconnect the battery cables while the engine is running.• A large counter electromotive force will be g ...
Dtc b28a5 engine torque limiter control prohibit
EyeSight (DIAGNOSTICS) > Diagnostic Procedure with Diagnostic Trouble Code (DTC)DTC B28A5 ENGINE TORQUE LIMITER CONTROL PROHIBITDetected when abnormal data is transmitted from stereo camera to engine control module (ECM) and the engine control module (ECM) prohibits the AT rapid start prevention ...
© 2016-2022 Copyright www.sucross.com