Subaru Crosstrek Service Manual: Component
EMISSION CONTROL (AUX. EMISSION CONTROL DEVICES)(H4DO) > General Description
COMPONENT
1. CANISTER, LEAK CHECK VALVE ASSEMBLY AND DRAIN SEPARATOR
For structures of the canister, leak check valve assembly and drain separator, refer to "FU (H4DO)". General Description > COMPONENT">

2. EGR SYSTEM 1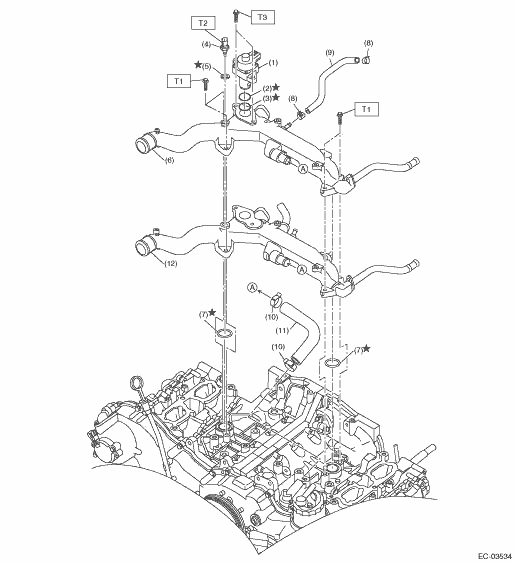 (1)

EGR control valve

(7)

O-ring

Tightening torque: N·m (kgf-m, ft-lb)

(2)

O-ring

(8)

Clip

T1:

6.4 (0.7, 4.7)

(3)

Gasket

(9)

Preheater hose A

T2:

18 (1.8, 13.3)

(4)

Engine coolant temperature sensor

(10)

Clip

T3:

22 (2.2, 16.2)

(5)

Gasket

(11)

Preheater hose B

(6)

Water pipe ASSY (MT model)

(12)

Water pipe ASSY (CVT model)
3. EGR SYSTEM 2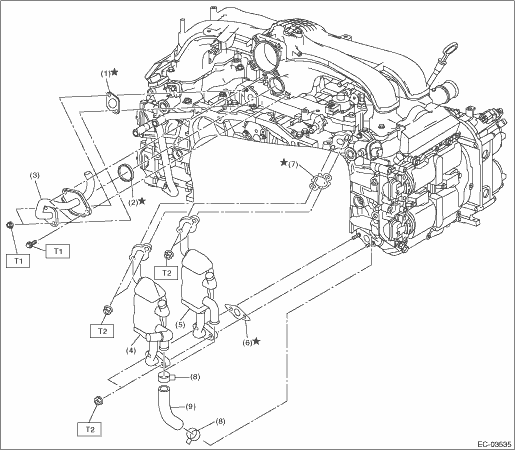 (1)

Gasket

(6)

Gasket

Tightening torque: N·m (kgf-m, ft-lb)

(2)

Gasket

(7)

Gasket

T1:

EGR Pipe > INSTALLATION">

(3)

EGR pipe

(8)

Clip

T2:

EGR Cooler > INSTALLATION">

(4)

EGR cooler (CVT model)

(9)

Engine coolant hose

(5)

EGR cooler (MT model)
4. PCV SYSTEM 1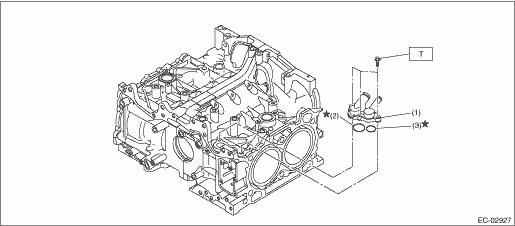 (1)

PCV connector

(3)

O-ring

Tightening torque: N·m (kgf-m, ft-lb)

(2)

O-ring

T:

6.4 (0.7, 4.7)
5. PCV SYSTEM 2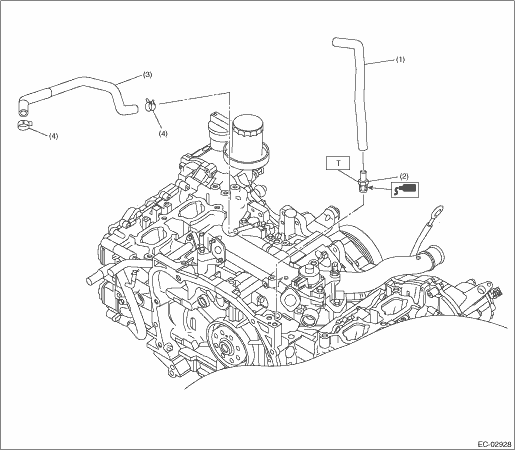 (1)

PCV hose A

(3)

PCV hose B

Tightening torque: N·m (kgf-m, ft-lb)

(2)

PCV valve

(4)

Clip

T:

23 (2.3, 17.0)
EMISSION CONTROL (AUX. EMISSION CONTROL DEVICES)(H4DO) > General DescriptionPREPARATION TOOL1. GENERAL TOOLTOOL NAMEREMARKSCircuit testerUsed for measuring resistance, voltage and current. ...
Other materials:
Removal
EXTERIOR BODY PANELS > Front HoodREMOVAL1. FRONT HOOD PANELCAUTION:The hood COMPL - front is heavy. When removing or installing the hinge COMPL - front hood, be sure to work in a group of two or more.1. Open the hood COMPL - front.2. Remove the clips, and remove the insulator - front hood.3. Remo ...
MT models
1. Apply the parking brake. 2. Turn off unnecessary lights and accessories. 3. Depress the clutch pedal to the floor and shift the shift lever into neutral. Hold the clutch pedal to the floor while starting the engine. The starter motor will only operate when the clutch pedal is depress ...
Removal
SECURITY AND LOCKS > Impact SensorREMOVAL1. Pull out the key from the ignition switch, or turn off the power.2. Close all the doors and rear gate.3. Press the UNLOCK button of the keyless transmitter or access key.4. Disconnect the ground cable from battery. NOTE">5. Remove the impact se ...
© 2016-2022 Copyright www.sucross.com