Subaru Crosstrek Service Manual: Component
DRIVE SHAFT SYSTEM > General Description
COMPONENT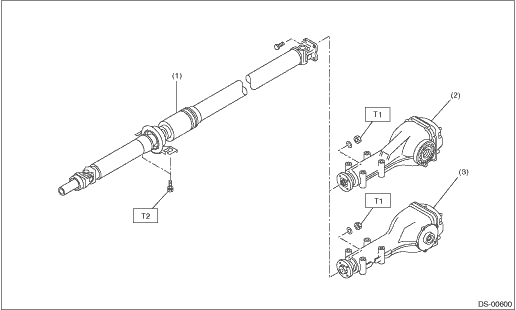 (1)

Propeller shaft

(3)

Rear differential (T-type)

Tightening torque: N·m (kgf-m, ft-lb)

(2)

Rear differential (VA1-type)

T1:

31 (3.2, 22.9)

T2:

52 (5.3, 38.4)
2. FRONT AXLE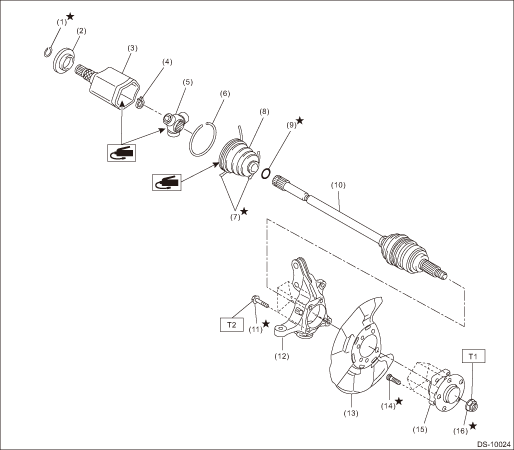 (1)

Circlip

(8)

Boot (PTJ)

(15)

Front hub unit bearing

(2)

Baffle plate

(9)

O-ring

(16)

Axle nut

(3)

Outer race (PTJ)

(10)

Shaft ASSY (EBJ)

(4)

Snap ring

(11)

Bolt

Tightening torque: N·m (kgf-m, ft-lb)

(5)

Trunnion

(12)

Front axle housing

T1:

220 (22.4, 162.3)

(6)

Snap ring

(13)

Front brake back plate

T2:

65 (6.6, 47.9)

(7)

Boot band

(14)

Hub bolt
3. REAR AXLE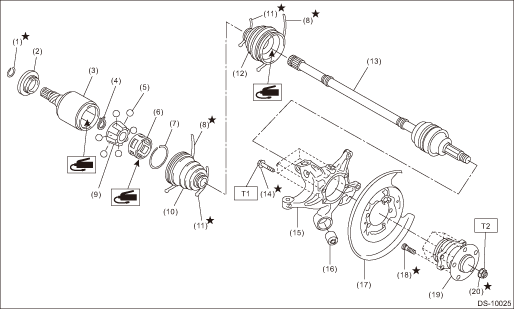 (1)

Circlip

(9)

Inner race

(17)

Rear brake back plate

(2)

Baffle plate

(10)

Boot (DOJ)

(18)

Hub bolt

(3)

Outer race (DOJ)

(11)

Boot band

(19)

Rear hub unit bearing

(4)

Snap ring

(12)

Boot (BJ)

Boot (EBJ)

(20)

Axle nut

(5)

Ball

(13)

Shaft ASSY (BJ) (CVT model)

Shaft ASSY (EBJ) (MT model)

(6)

Cage

(14)

Bolt

Tightening torque: N·m (kgf-m, ft-lb)

(7)

Snap ring

(15)

Rear axle housing

T1:

65 (6.6, 47.9)

(8)

Boot band

(16)

Rear bushing

T2:

190 (19.4, 140.1)
DRIVE SHAFT SYSTEM > General DescriptionSPECIFICATION1. PROPELLER SHAFTPropeller shaft typeEDJFront propeller shaft joint-to-joint length: L1CVT675.5 mm (26.59 in)MT735.5 mm (28.96 in)Rear propelle ...
DRIVE SHAFT SYSTEM > General DescriptionPREPARATION TOOL1. SPECIAL TOOLILLUSTRATIONPART NO.DESCRIPTIONREMARKS20099PA010INSTALLER & REMOVER• Used for replacing the rear bushing of rear axl ...
Other materials:
By contacts list
On the phone (menu) screen, select the "Contacts" key to open the phone number list screen. You can make a call by selecting an item in the list (up to five phone numbers are listed). If there is no contact data, a message is displayed to indicate that there is no contact data. Conta ...
Keyless access system Wiring diagram
WIRING SYSTEM > Keyless Access SystemWIRING DIAGRAM ...
Installation
AIRBAG SYSTEM > Curtain Airbag SensorINSTALLATIONCAUTION:• Do not reuse the bolt and nut.Always replace with the specified new bolts and nuts.• When installing the sensor, insert the set pin on the backside of the sensor into the hole on the body side securely.1. Before installation, ...
© 2016-2022 Copyright www.sucross.com