Subaru Crosstrek Service Manual: Component
COOLING(H4DO) > General Description
COMPONENT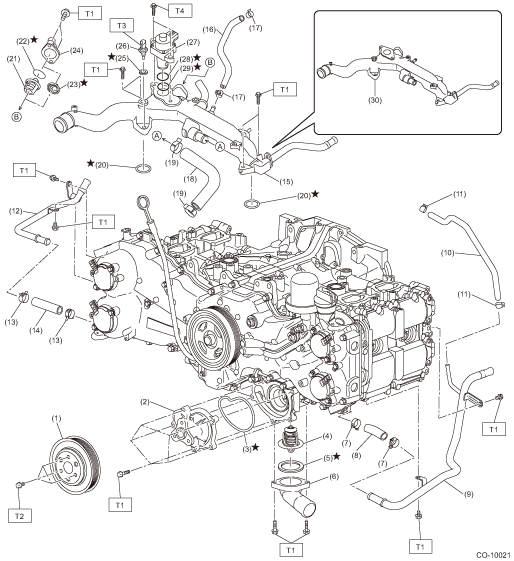 (1)

Water pump pulley

(13)

Clip

(25)

Gasket

(2)

Water pump ASSY

(14)

Water pipe hose RH

(26)

Engine coolant temperature sensor

(3)

Gasket

(15)

Water pipe ASSY (CVT model)

(27)

EGR control valve

(4)

Thermostat (engine side)

(16)

Preheater hose A

(28)

O-ring

(5)

Gasket (engine side)

(17)

Clip

(29)

Gasket

(6)

Thermostat cover (engine side)

(18)

Preheater hose B

(30)

Water pipe ASSY (MT model)

(7)

Clip

(19)

Clip

(8)

Water pipe hose LH

(20)

O-ring

Tightening torque: N·m (kgf-m, ft-lb)

(9)

Water pipe LH

(21)

Thermostat (CVTF cooler (with warmer feature) side)

T1:

6.4 (0.7, 4.7)

(10)

Preheater hose

(22)

Gasket (CVTF cooler (with warmer feature) side)

T2:

14 (1.4, 10.3)

(11)

Clip

(23)

Gasket (MT model)

T3:

18 (1.8, 13.3)

(12)

Water pipe RH

(24)

Thermostat cover (CVTF cooler (with warmer feature) side)

T4:

22 (2.2, 16.2)
2. RADIATOR & RADIATOR FAN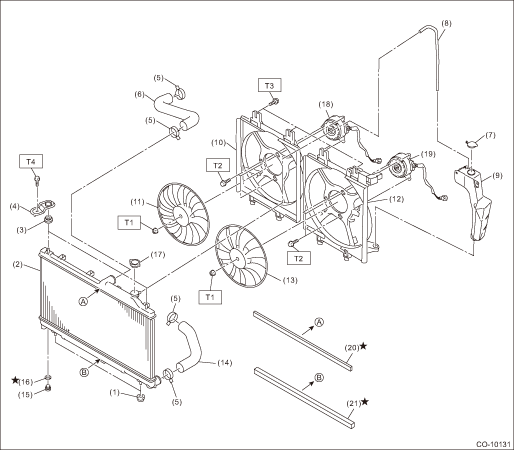 (1)

Radiator lower cushion

(11)

Radiator sub fan

(20)

Radiator upper gasket

(2)

Radiator

(12)

Radiator main fan shroud

(21)

Radiator lower gasket

(3)

Radiator upper cushion

(13)

Radiator main fan

(4)

Radiator upper bracket

(14)

Radiator outlet hose

Tightening torque: N·m (kgf-m, ft-lb)

(5)

Clip

(15)

Radiator drain plug

T1:

3.4 (0.3, 2.5)

(6)

Radiator inlet hose

(16)

O-ring

T2:

4.41 (0.45, 3.25)

(7)

Engine coolant reservoir tank cap

(17)

Radiator cap

T3:

7.5 (0.8, 5.5)

(8)

Over flow hose

(18)

Sub fan motor

T4:

12 (1.2, 8.9)

(9)

Engine coolant reservoir tank

(19)

Main fan motor

(10)

Radiator sub fan shroud
COOLING(H4DO) > General DescriptionSPECIFICATIONCooling systemElectric fan + forced engine coolant circulation systemTotal engine coolant capacityL (US qt, Imp qt)CVT modelApprox. 8.4 (8.9, 7.4)MT ...
COOLING(H4DO) > General DescriptionPREPARATION TOOL1. SPECIAL TOOLILLUSTRATIONTOOL NUMBERDESCRIPTIONREMARKS18355AA000PULLEY WRENCH• Used for removing and installing water pump pulley.• ...
Other materials:
Dtc b1907 short in front p/t lh (to ground)
AIRBAG SYSTEM (DIAGNOSTICS) > Diagnostic Chart with Trouble CodeDTC B1907 SHORT IN FRONT P/T LH (TO GROUND)Diagnosis start condition:Ignition voltage is 10 V to 16 V.DTC detecting condition:• Seat belt pretensioner (LH) circuit is shorted to ground.• Pretensioner (LH) is faulty.• ...
Dtc c0042 power supply voltage failure
VEHICLE DYNAMICS CONTROL (VDC) (DIAGNOSTICS) > Diagnostic Procedure with Diagnostic Trouble Code (DTC)DTC C0042 POWER SUPPLY VOLTAGE FAILUREDTC detecting condition:Improper VDCCM&H/U power supply voltageTrouble symptom:• ABS does not operate.• EBD may not operate.• VDC does ...
Inspection
DRIVE SHAFT SYSTEM > Front Drive ShaftINSPECTIONCheck the removed parts for damage, wear, corrosion etc. If faulty, repair or replace.• PTJ (pillow tripod joint)Check for seizure, corrosion, damage, wear and excessive play.• EBJ (high-efficiency compact ball fixed joint)Check for seiz ...
© 2016-2022 Copyright www.sucross.com