Subaru Crosstrek Service Manual: Component
CONTROL SYSTEMS > General Description
COMPONENT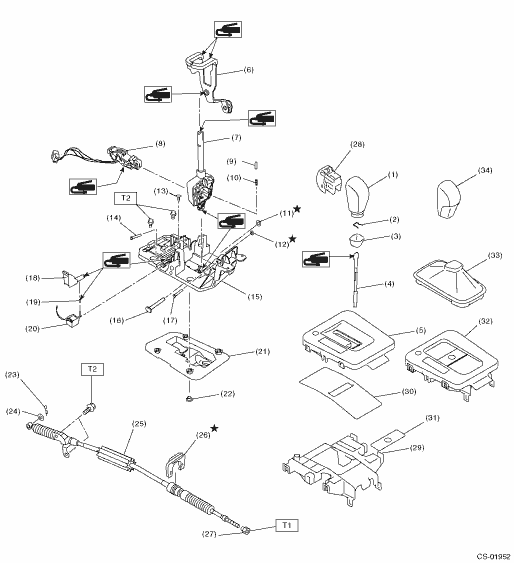 (1)

Grip sub ASSY (model with gate shifter)

(14)

Spacer pin guide

(27)

Nut

(2)

Clamp grip pin

(15)

Plate COMPL

(28)

Button ASSY-AT

(3)

Cover grip AT (model with gate shifter)

(16)

Shaft control

(29)

Housing

(4)

Rod COMPL

(17)

Spacer pin guide

(30)

Blind A (model with gate shifter)

(5)

Indicator cover (model with gate shifter)

(18)

Rod shift lock

(31)

Blind B (model with gate shifter)

(6)

Arm COMPL

(19)

Cushion solenoid

(32)

Indicator assembly (model with boot shifter)

(7)

Select lever COMPL

(20)

Solenoid unit

(33)

Boot ASSY (model with boot shifter)

(8)

Plate guide

(21)

Gasket

(34)

Grip sub ASSY (model with boot shifter)

(9)

Rod detent

(22)

Spacer plate

(10)

Detent spring

(23)

Snap pin

Tightening torque: N·m (kgf-m, ft-lb)

(11)

Clamp push nut

(24)

Washer

T1:

7.5 (0.8, 5.5)

(12)

Clamp push nut

(25)

Select cable

T2:

18 (1.8, 13.3)

(13)

Clamp pin

(26)

Clamp
2. 5MT GEAR SHIFT LEVER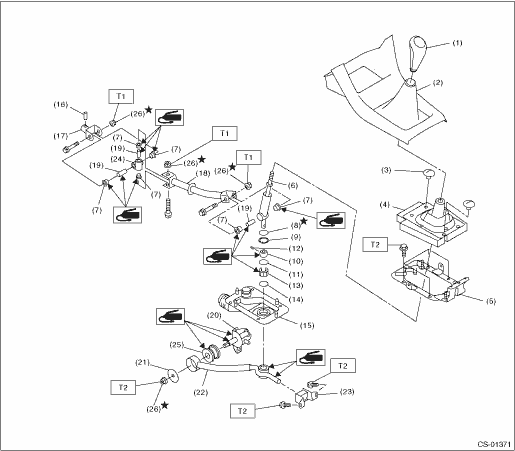 (1)

Gear shift knob

(11)

O-ring

(21)

Plate

(2)

Console front cover ASSY

(12)

Spring pin

(22)

Stay

(3)

Clamp

(13)

Bushing B

(23)

Cushion rubber

(4)

Boot and insulator ASSY

(14)

O-ring

(24)

Boss

(5)

Plate COMPL

(15)

Boot

(25)

Bushing

(6)

Lever

(16)

Spring pin

(26)

Self-locking nut

(7)

Bushing

(17)

Joint

(8)

Lock wire

(18)

Rod

Tightening torque: N·m (kgf-m, ft-lb)

(9)

Snap ring

(19)

Spacer

T1:

12 (1.2, 8.9)

(10)

Bushing

(20)

Shift bracket

T2:

18 (1.8, 13.3)
CONTROL SYSTEMS > General DescriptionSPECIFICATIONItemSpecificationsSwing torque of rod against leverN (kgf, lb)3.7 (0.38, 0.83) or less ...
CONTROL SYSTEMS > General DescriptionPREPARATION TOOL1. SPECIAL TOOLILLUSTRATIONTOOL NUMBERDESCRIPTIONREMARKS — SUBARU SELECT MONITOR 4Used for setting of each function and troubleshooting for el ...
Other materials:
Where to place a child restraint system
The following are SUBARU's recommendations on where to place a child restraint system in your vehicle. A: Front passenger's seat You should not install a child restraint system (including a booster seat) due to the hazard to children posed by the passenger's airbag. B: Rear seat, window- ...
Airbag connector Procedure
OCCUPANT DETECTION SYSTEM (DIAGNOSTICS) > Airbag ConnectorPROCEDURE1. OCCUPANT DETECTION SYSTEM (BETWEEN AIRBAG REAR HARNESS AND SEAT HARNESS)1. How to disconnect:Press the lock arm (A) and disconnect the connector.CAUTION:When pulling the slide lock or disconnecting connector, be sure to hold th ...
Caution
EMISSION CONTROL (AUX. EMISSION CONTROL DEVICES)(H4DO) > General DescriptionCAUTION• Prior to starting work, pay special attention to the following:1. Always wear work clothes, a work cap, and protective shoes. Additionally, wear a helmet, protective goggles, etc. if necessary.2. Protect th ...
© 2016-2022 Copyright www.sucross.com