Subaru Crosstrek Service Manual: Component
CLUTCH SYSTEM > General Description
COMPONENT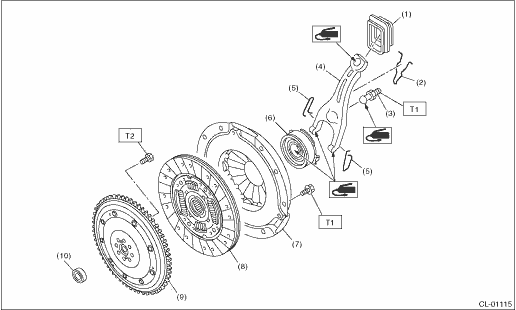 (1)

Dust cover

(6)

Release bearing

Tightening torque: N·m (kgf-m, ft-lb)

(2)

Lever spring

(7)

Clutch cover

T1:

16 (1.6, 11.8)

(3)

Pivot

(8)

Clutch disc

T2:

Flywheel > INSTALLATION">

(4)

Release lever

(9)

Flexible flywheel

(5)

Clip

(10)

Pilot bearing
2. CLUTCH PIPE AND HOSE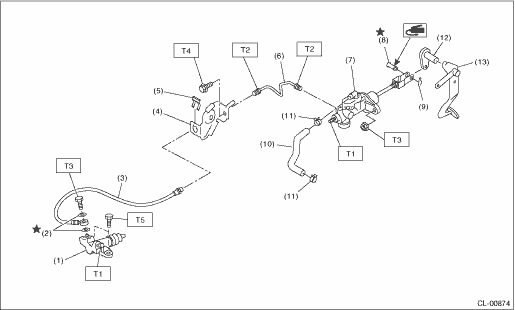 (1)

Operating cylinder

(8)

Clevis pin

Tightening torque: N·m (kgf-m, ft-lb)

(2)

Gasket

(9)

Snap pin

T1:

7.8 (0.8, 5.8)

(3)

Clutch hose

(10)

Tank hose

T2:

15 (1.5, 11.1)

(4)

Clutch hose bracket

(11)

Clamp

T3:

18 (1.8, 13.3)

(5)

Clamp

(12)

Lever

T4:

25 (2.5, 18.4)

(6)

Clutch pipe

(13)

Pedal

T5:

37 (3.8, 27.3)

(7)

Master cylinder ASSY
3. MASTER CYLINDER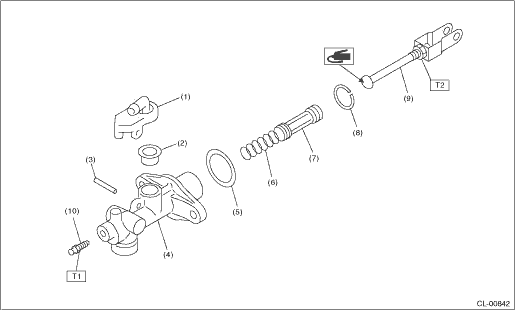 (1)

Nipple

(6)

Return spring

Tightening torque: N·m (kgf-m, ft-lb)

(2)

Oil seal

(7)

Piston

T1:

7.8 (0.8, 5.8)

(3)

Straight pin

(8)

Piston stop ring

T2:

10 (1.0, 7.4)

(4)

Master cylinder

(9)

Push rod ASSY

(5)

Seat

(10)

Bleeder screw
4. OPERATING CYLINDER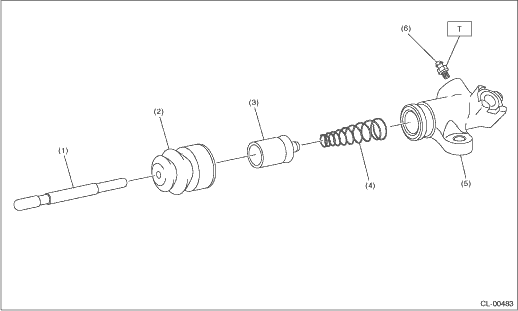 (1)

Push rod

(4)

Piston spring

Tightening torque: N·m (kgf-m, ft-lb)

(2)

Boot

(5)

Operating cylinder

T:

7.8 (0.8, 5.8)

(3)

Piston

(6)

Bleeder screw
5. CLUTCH PEDAL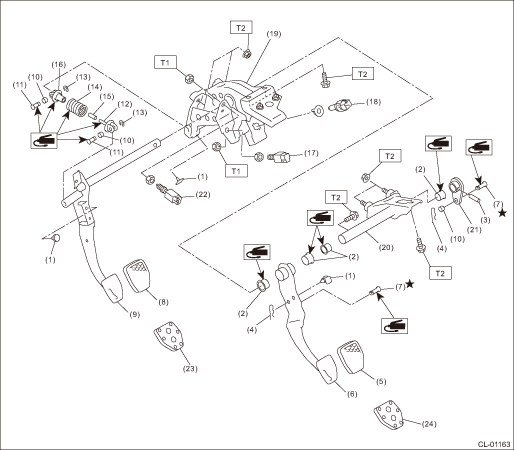 (1)

Stopper

(11)

Clutch clevis pin

(21)

Lever

(2)

Pedal bushing

(12)

Assist rod A

(22)

Clutch start switch

(3)

Spring pin

(13)

Clip

(23)

Clutch pedal pad (sport type)

(4)

Snap pin

(14)

Assist spring

(24)

Brake pedal pad (sport type)

(5)

Brake pedal pad (normal type)

(15)

Assist bushing

(6)

Brake pedal

(16)

Assist rod B

Tightening torque: N·m (kgf-m, ft-lb)

(7)

Clevis pin

(17)

Clutch switch

T1:

8 (0.8, 5.9)

(8)

Clutch pedal pad (normal type)

(18)

Stop light switch

T2:

18 (1.8, 13.3)

(9)

Clutch pedal

(19)

Pedal bracket

(10)

Bushing C

(20)

Clutch master cylinder bracket
CLUTCH SYSTEM > General DescriptionSPECIFICATIONModel2.0 LTransmission type5MTClutch coverTypePush typeDiaphragm set loadN (kgf, lbf)5,688 (580, 1,279)Clutch discFacing materialWoven (non-asbestos) ...
CLUTCH SYSTEM > General DescriptionPREPARATION TOOL1. SPECIAL TOOLILLUSTRATIONTOOL NUMBERDESCRIPTIONREMARKS498497100CRANKSHAFT STOPPERUsed for stopping rotation of the flywheel.499747100CLUTCH DISC ...
Other materials:
Selecting a function menu
Press the HOME button to display home screen. Item Function AUDIO Select to display the main screen of the audio source that was selected previously. PHONE Select to display the hands-free function using your cell phone. Refer to "Hands-free phon ...
Inspection
SUNROOF/T-TOP/CONVERTIBLE TOP (SUNROOF) > Sunroof SwitchINSPECTION1. Check the resistance between connector terminals.Preparation tool:Circuit testerTerminal No.Inspection conditionsStandardConnector1 — 3OpenLess than 1 ?(b): Slide switch4 — 3CloseLess than 1 ?1 — 3Tilt upLess than 1 ?(a): ...
Removal
ENTERTAINMENT > External Connection TerminalREMOVAL1. Disconnect the ground cable from battery and wait for at least 60 seconds before starting work. NOTE">2. Remove the console box assembly. Console Box > REMOVAL">3. While pressing the claw, press it in from the rear to remo ...
© 2016-2022 Copyright www.sucross.com