Subaru Crosstrek Service Manual: Component
BRAKE > General Description
COMPONENT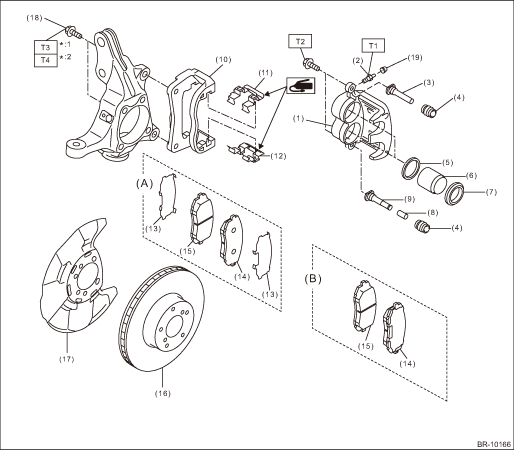 (A)

Shim-separate brake pad type

(B)

Shim-integrated brake pad type

(1)

Caliper body

(11)

Pad clip - upper

(19)

Cap - bleeder

(2)

Bleeder - screw

(12)

Pad clip - lower

(3)

Guide pin - front brake (black)

(13)

Shim - disc brake front

*1:

17 mm (width across flats)

(4)

Pin boot

(14)

Pad - disc brake front outer

*2:

19 mm (width across flats)

(5)

Piston seal

(15)

Pad - disc brake front inner

(6)

Piston - disc brake

(16)

Disc rotor

Tightening torque: N·m (kgf-m, ft-lb)

(7)

Piston boot

(15)

Pad - disc brake front inner

T1:

8 (0.82, 5.9)

(8)

Lock pin - sleeve

(16)

Disc rotor

T2:

27 (2.75, 19.9)

(9)

Lock pin - front brake (silver)

(17)

Back plate - front brake

T3:

80 (8.16, 59)

(10)

Support - front disc brake

(18)

Mounting bolt

T4:

135 (13.8, 99.6)
2. REAR DISC BRAKE
(1)

Housing ASSY - rear axle

(17)

Shim - disc brake rear inner

(33)

Parking brake shoe (primary)

(2)

Support - rear disc brake

(18)

Shim - disc brake rear outer

(34)

Back plate - rear brake

(3)

Pad clip - rear brake

(19)

Pin - secondary shoe hold-down

(35)

Disc rotor (solid type)

(4)

Bleeder - screw

(20)

Pin - primary shoe hold-down

(36)

Adjusting hole cover

(5)

Guide pin - rear brake (black)

(21)

Retainer - rear brake

(37)

Mounting bolt

(6)

Pin boot

(22)

Spring washer - rear brake

(38)

Cap - bleeder

(7)

Caliper body

(23)

Parking lever - rear

(8)

Piston seal

(24)

Pin - parking lever

*1:

14 mm (width across flats)

(9)

Piston - disc brake

(25)

Parking brake shoe (secondary)

*2:

17 mm (width across flats)

(10)

Piston boot

(26)

Spring - secondary shoe return

(11)

Lock pin - rear brake (silver)

(27)

Spring - strut

Tightening torque: N·m (kgf-m, ft-lb)

(12)

Lock pin - sleeve

(28)

Strut - brake

T1:

8 (0.82, 5.9)

(13)

Shim - disc brake rear outer

(29)

Adjuster ASSY - rear brake

T2:

27 (2.75, 19.9)

(14)

Shim - disc brake rear inner

(30)

Spring - primary shoe return

T3:

66 (6.7, 48.7)

(15)

Pad - disc brake rear inner

(31)

Spring - adjuster

T4:

110 (11.2, 81.1)

(16)

Pad - disc brake rear outer

(32)

Cup - shoe hold-down
3. MASTER CYLINDER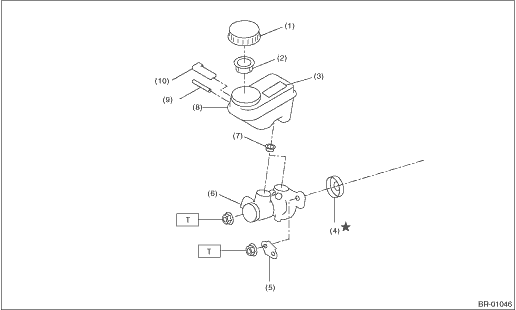 (1)

Cap - reservoir tank

(6)

Cylinder body ASSY

Tightening torque: N·m (kgf-m, ft-lb)

(2)

Filter - master cylinder

(7)

Seal

T:

13 (1.33, 9.6)

(3)

Caution label (model with caution label)

(8)

Reservoir tank

(4)

Seal sub ASSY

(9)

Pin

(5)

Bracket - master cylinder

(10)

Level - indicator
4. FRONT BRAKE PIPES AND HOSES
• Models without EyeSight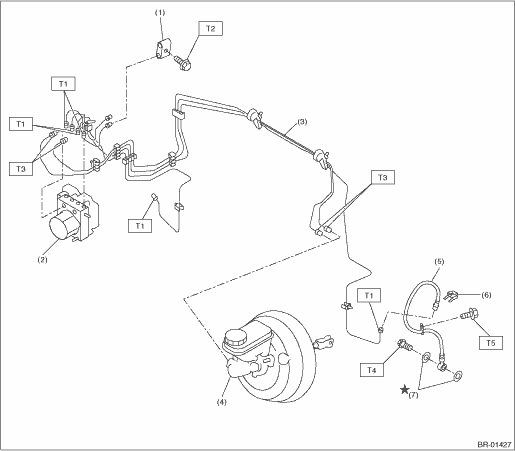 (1)

Connector - two-way

(5)

Front brake hose RH/LH

Tightening torque: N·m (kgf-m, ft-lb)

(2)

VDC control module and hydraulic control unit (VDCCM&H/U)

(6)

Clamp

T1:

15 (1.53, 11.1)

(3)

Front brake pipe ASSY

(7)

Gasket

T2:

18 (1.84, 13.3)

(4)

Master cylinder ASSY

T3:

19 (1.94, 14.0)

T4:

26 (2.65, 19.2)

T5:

33 (3.36, 24.3)
• Models with EyeSight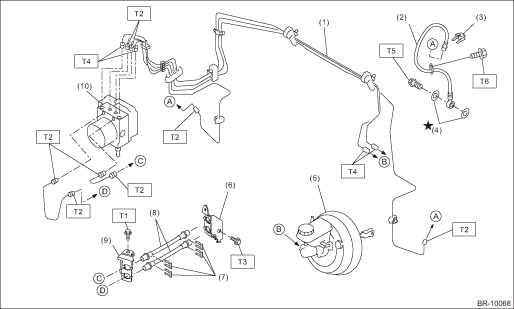 (1)

Front brake pipe ASSY

(7)

Clamp

Tightening torque: N·m (kgf-m, ft-lb)

(2)

Front brake hose RH/LH

(8)

Brake hose ASSY

T1:

7.5 (0.76, 5.5)

(3)

Clamp

(9)

Bracket

T2:

15 (1.53, 11.1)

(4)

Gasket

(10)

VDC control module and hydraulic control unit (VDCCM&H/U)

T3:

18 (1.84, 13.3)

(5)

Master cylinder ASSY

T4:

19 (1.94, 14.0)

(6)

Bracket

T5:

26 (2.65, 19.2)

T6:

33 (3.36, 24.3)
5. CENTER AND REAR BRAKE PIPES AND HOSES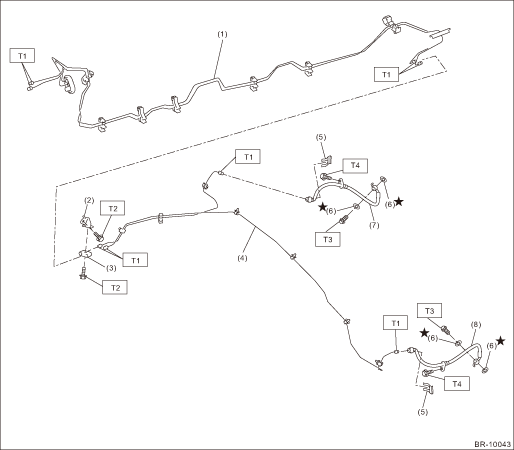 (1)

Center brake pipe ASSY

(5)

Clamp

Tightening torque: N·m (kgf-m, ft-lb)

(2)

Bracket

(6)

Gasket

T1:

15 (1.53, 11.1)

(3)

Connector

(7)

Rear brake hose RH

T2:

18 (1.84, 13.3)

(4)

Rear brake pipe ASSY

(8)

Rear brake hose LH

T3:

26 (2.65, 19.2)

T4:

33 (3.4, 24.3)
6. BRAKE BOOSTER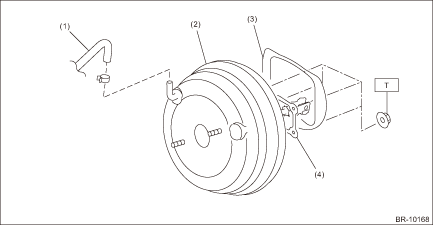 (1)

Vacuum hose

(3)

Damping seat (model with EyeSight)

Tightening torque: N·m (kgf-m, ft-lb)

(2)

Vacuum booster ASSY

(4)

Gasket

T:

18 (1.84, 13.3)
7. BRAKE PEDAL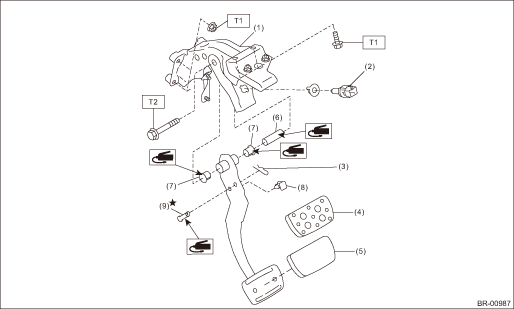 (1)

Brake pedal ASSY

(6)

Spacer - pedal

Tightening torque: N·m (kgf-m, ft-lb)

(2)

Stop light switch

(7)

Bushing - pedal

T1:

18 (1.84, 13.3)

(3)

Snap pin

(8)

Stopper - pedal

T2:

30 (3.06, 22.1)

(4)

Pad - brake pedal (sport type)

(9)

Clevis pin

(5)

Pad - brake pedal (normal type)
• MT model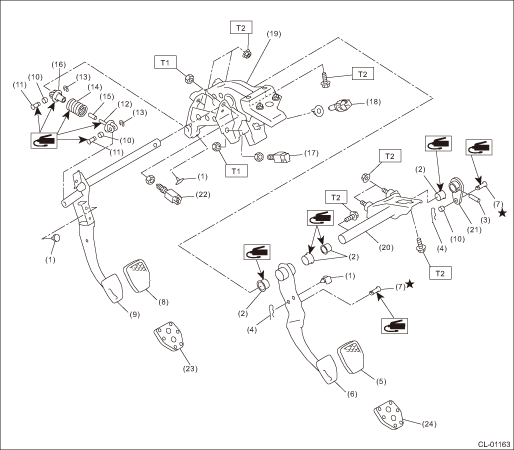 (1)

Stopper

(11)

Clutch clevis pin

(21)

Lever

(2)

Bushing

(12)

Assist rod A

(22)

Clutch start switch

(3)

Spring pin

(13)

Clip

(23)

Pad - clutch pedal (sport type)

(4)

Snap pin

(14)

Assist spring

(24)

Pad - brake pedal (sport type)

(5)

Pad - brake pedal (normal type)

(15)

Assist bushing

(6)

Brake pedal

(16)

Assist rod B

Tightening torque: N·m (kgf-m, ft-lb)

(7)

Clevis pin

(17)

Clutch switch

T1:

8 (0.8, 5.9)

(8)

Pad - clutch pedal (normal type)

(18)

Stop light switch

T2:

18 (1.8, 13.3)

(9)

Clutch pedal

(19)

Pedal bracket

(10)

Bushing C

(20)

Clutch master cylinder bracket
BRAKE > General DescriptionSPECIFICATIONNOTE:Refer to "PARKING BRAKE" for parking brake specifications. General Description > SPECIFICATION">1. FRONT DISC BRAKEItemSpecifica ...
Other materials:
Installation
EXTERIOR/INTERIOR TRIM > Roof MoldingINSTALLATION1. Remove the clips from the molding - roof, and attach to the studs on the vehicle.CAUTION:• Always replace the clips that were damaged during removal of the molding - roof with new parts.• While installing the molding - roof, be caref ...
Adjustment
MANUAL TRANSMISSION AND DIFFERENTIAL(5MT) > Reverse Idler GearADJUSTMENT1. Select the appropriate reverse shifter lever from the table below, and adjust until the clearance between the reverse idler gear and transmission case wall is within specification.Clearance A:6.0 — 7.5 mm (0.236 — 0.29 ...
Roof antenna (for Rod type)
CAUTION Be sure to remove the antenna rod before entering garages, parking towers and other locations with low ceilings. Remove the antenna rod before washing your car at a car wash. If the antenna rod is left attached, it may scratch the roof. When reinstalling the removed ant ...
© 2016-2022 Copyright www.sucross.com