Subaru Crosstrek Service Manual: Clutch fluid air bleeding Procedure
CLUTCH SYSTEM > Clutch Fluid Air Bleeding
PROCEDURE
Be careful not to spill the brake fluid. Brake fluid spilled on the vehicle body will harm the paint surface; wash it off with water and wipe clean quickly if spilled.
NOTE:
Bleed air from the oil line with help of a co-worker.
1. Remove the clip (A) from the air intake boot.
2. Loosen the clamp (B) connecting the air intake boot and air cleaner case (rear).
3. Loosen the clamp (C) which connects the air intake boot and throttle body.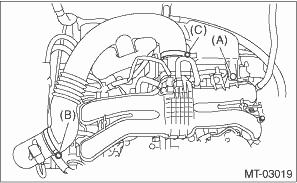 4. Remove the air intake boot from the throttle body, and move it to the left side wheel apron.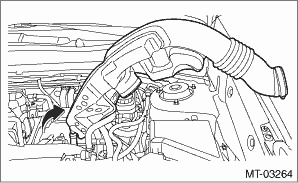 5. Fit one end of a vinyl tube into the air bleeder of the operating cylinder, and put the other end into a container.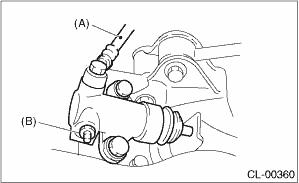 | | |
| --- | --- |
| (A) | Clutch hose |
| (B) | Air bleeder |
6. Slowly depress the clutch pedal and keep it depressed. Then open the air bleeder to discharge air together with the brake fluid.
Release the air bleeder for 1 or 2 seconds. Next, close the air bleeder, and slowly release the clutch pedal.
CAUTION:
Cover the air bleeder with cloth to prevent brake fluid from being splashed on surrounding parts when loosening the bleeder.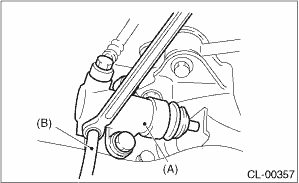 | | |
| --- | --- |
| (A) | Operating cylinder |
| (B) | Vinyl tube |
7. Repeat procedure 6), until there are no more air bubbles appearing from the air bleeder.
8. Tighten the air bleeder.
T: 7.8 N·m (0.8 kgf-m, 5.8 ft-lb)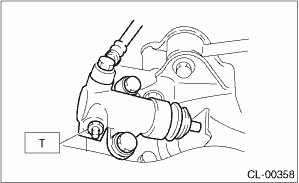 9. After stepping on the clutch pedal, make sure that there are no leaks evident in the entire clutch system.
10. After bleeding the air from clutch system, ensure that the clutch operates properly.
11. Install the air intake boot. Air Intake Boot > INSTALLATION">

CLUTCH SYSTEM > Release Bearing and LeverINSTALLATIONNOTE:Apply the specified grease to lubricate to the following points before installation.• Contact surface of lever and pivot• Conta ...
CLUTCH SYSTEM > General Diagnostic TableINSPECTION1. CLUTCHSymptomsPossible causeCorrective action1. Clutch slippageIt is hard to perceive clutch slippage in the early stage, but pay attention to t ...
Other materials:
Replacement
CONTINUOUSLY VARIABLE TRANSMISSION(TR580) > Differential Gear OilREPLACEMENTCAUTION:• Immediately after the vehicle has been running or after idling for a long time, the differential gear oil will be hot. Be careful not to burn yourself.• Be careful not to spill differential gear oil ...
Fuel filler lid and cap
Locations of the fuel filler lid and the lid release lever Fuel filler lid Fuel filler lid release lever Refueling Only one person should be involved in refueling. Do not allow others to approach the area of the vehicle near the fuel filler pipe while refueling is in progress. Be ...
Inspection
LIGHTING SYSTEM > Turn Signal Light & Hazard Light UnitINSPECTION1. Disconnect the connector of the turn signal & hazard unit.2. Measure the voltage between the turn signal & hazard unit connector and the chassis ground.Preparation tool:Circuit testerTerminal No.Inspection conditionsS ...
© 2016-2022 Copyright www.sucross.com