Subaru Crosstrek Service Manual: Assembly
DRIVE SHAFT SYSTEM > Rear Hub Unit Bearing
ASSEMBLY
1. Install the rear hub unit bearing to the ST securely.
ST: HUB STAND (927080000)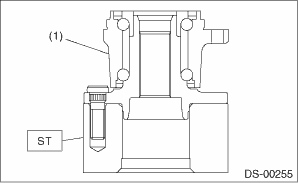 2. Using a press, press new hub bolts (b) until their seating surfaces contact the rear hub unit bearing (a).
NOTE:
Use the 12 mm (0.47 in) dia. holes in the HUB STAND to prevent bolts from tilting.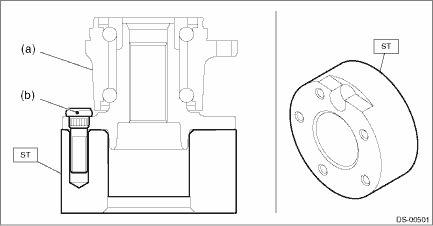 DRIVE SHAFT SYSTEM > Rear Hub Unit BearingREMOVAL1. Lift up the vehicle, and then remove the rear wheels.2. Remove the axle nut.CAUTION:Do not loosen the axle nut while the rear axle is loaded. Doi ...
Other materials:
Inspection
INSTRUMENTATION/DRIVER INFO > Steering SwitchINSPECTION1. Measure the resistance between switch terminals.Preparation tool:Circuit testerTerminal No.Inspection conditionsStandard3 — 2 (UP)i/SET (DOWN)All OFFApprox. 1 M? or more (UP)ONLess than 1 ?i/SETONApprox. 1,000 ? (DOWN)ONApprox. 3,670 ?2. ...
Specification
LIGHTING SYSTEM > General DescriptionSPECIFICATIONNo.DescriptionCapacity and wattageType(1)HeadlightLow beam (halogen type)12 V — 55 WH11Low beam (HID type)12 V — 35 WD2RHigh beam12 V — 60 WHB3Front turn signal light12 V — 21 WWY21WParking light12 V — 5 WW5WSide marker light12 V — 5 W ...
Installation
DRIVE SHAFT SYSTEM > Rear Drive ShaftINSTALLATION1. Replace the rear differential side oil seal. Rear Differential Side Oil Seal > REPLACEMENT">NOTE:After pulling out the drive shaft assembly, be sure to replace with a new oil seal.2. Insert the drive shaft assembly into the rear hub ...
© 2016-2022 Copyright www.sucross.com