Subaru Crosstrek Service Manual: Assembly
DRIVE SHAFT SYSTEM > Rear Axle
ASSEMBLY
1. BUSHING - REAR AXLE HOUSING
Do not remove the bushing - rear axle housing from the rear axle housing, because it cannot be replaced. If removed, replace the rear axle housing.
2. REAR BUSHING
1. Before assembly, inspect the following items and replace any faulty part with a new one.
• Perform visual check for damage or bend on the trailing link.
• Visually check the bushing for abnormal cracks, fatigue or damage.
2. Press-fit the bushing using ST and the hydraulic press.
CAUTION:
Make sure to press the bushing straight in.
ST1: BUSHING REMOVER (20099FG000)
ST2: INSTALLER & REMOVER (BASE) (20099PA010)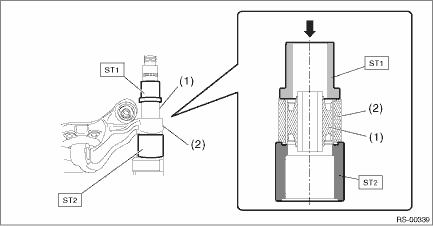 | | | | |
| --- | --- | --- | --- |
| (1) | Rear bushing | (2) | Rear axle housing |
DRIVE SHAFT SYSTEM > Rear AxleREMOVAL1. Disconnect the ground cable from battery. NOTE">2. Lift up the vehicle, and then remove the rear wheels.3. Remove the axle nut.CAUTION:Do not loosen ...
Other materials:
Shock sensors (dealer option)
The shock sensors trigger the alarm system when they sense impacts applied to the vehicle and when any of their electric wires are cut. The alarm system causes the horn to sound and the hazard warning flashers to flash for a short time when the sensed impact is weak, but it warns of a strong ...
Dtc p0965 pressure control solenoid "b" control circuit range/performance
CONTINUOUSLY VARIABLE TRANSMISSION (DIAGNOSTICS) > Diagnostic Procedure with Diagnostic Trouble Code (DTC)DTC P0965 PRESSURE CONTROL SOLENOID "B" CONTROL CIRCUIT RANGE/PERFORMANCEDTC DETECTING CONDITION:Immediately at fault recognitionTROUBLE SYMPTOM:• Engine speed increases abrup ...
Dtc p0336 crankshaft position sensor "a" circuit range/performance
ENGINE (DIAGNOSTICS)(H4DO) > Diagnostic Procedure with Diagnostic Trouble Code (DTC)DTC P0336 CRANKSHAFT POSITION SENSOR "A" CIRCUIT RANGE/PERFORMANCEDTC detecting condition:Detected when two consecutive driving cycles with fault occur.Trouble symptom:• Engine stall• Failure ...
© 2016-2022 Copyright www.sucross.com