Subaru Crosstrek Service Manual: Assembly
COOLING(H4DO) > Radiator Main Fan and Fan Motor
ASSEMBLY
Assemble in the reverse order of disassembly.
4.41 N·m (0.45 kgf-m, 3.25 ft-lb)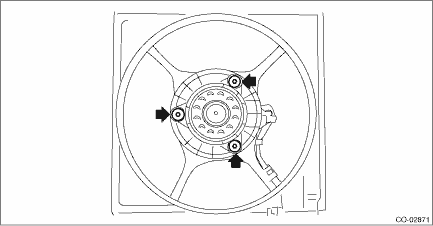 3.4 N·m (0.3 kgf-m, 2.5 ft-lb)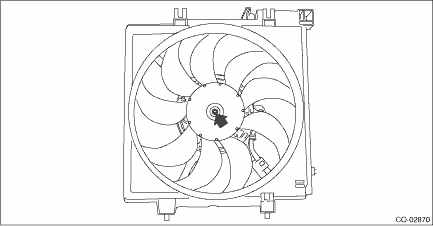 COOLING(H4DO) > Radiator Main Fan and Fan MotorREMOVAL1. Disconnect the ground cable from battery. NOTE">2. Remove the reservoir tank. Reservoir Tank > REMOVAL">3. Disconnect t ...
Other materials:
Basic operation
By operating " " or " " of the control switch, the screens and selection items can be switched. When the " /SET" switch is pulled toward you, the item can be selected and set. If there are some useful messages, such as vehicle information, warning information, etc., they wi ...
Inspection
CONTINUOUSLY VARIABLE TRANSMISSION(TR580) > Oil Pump ChainINSPECTION• Check the oil pump chain for damage.• Replace if gear teeth are broken, damaged, sharpen or excessively worn.• Check the bearing for seizure or wear.• Apply CVTF to bearing and rotate the bearing to chec ...
Removal
FUEL INJECTION (FUEL SYSTEMS)(H4DO) > Fuel PumpREMOVALWARNING:Place "NO OPEN FLAMES" signs near the working area.CAUTION:• Be careful not to spill fuel.• Catch the fuel from the tubes using a container or cloth.• If the fuel gauge indicates that two thirds or more of ...
© 2016-2022 Copyright www.sucross.com