Subaru Crosstrek Service Manual: Assembly
BRAKE > Master Cylinder
ASSEMBLY
When replacing the reservoir tank, adhere the label to the position shown in the figure. (C5 model)
C5 model
Part No.: Label (25080GA010)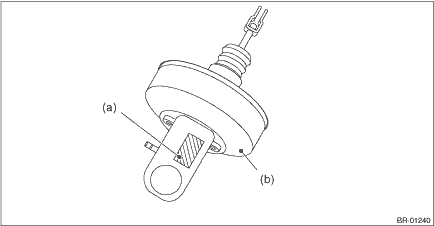 1. Install the seal to the cylinder body assembly.
2. Install the reservoir tank.
CAUTION:
Be careful not to tighten a vise excessively.
(1) Place the master cylinder assembly between aluminum plates and fix it on a vise.
(2) Drive the pin using a punch and a hammer to install the reservoir tank.
BRAKE > Master CylinderREMOVALCAUTION:• Do not allow brake fluid to come in contact with the painted surface of the vehicle body. If it does, wash off with water and wipe away completely.&bul ...
Other materials:
Inspection
DRIVE SHAFT SYSTEM > Propeller ShaftINSPECTIONCheck the propeller shaft with the propeller shaft installed to the vehicle.1. Remove the front exhaust pipe. Front Exhaust Pipe > REMOVAL">2. Remove the center exhaust pipe, rear exhaust pipe, and muffler.• Center exhaust pipe & ...
Seatbelt maintenance
To clean the seatbelts, use a mild soap and lukewarm water. Never bleach or dye the belts because this could seriously affect their strength. Inspect the seatbelts and attachments including the webbing and all hardware periodically for cracks, cuts, gashes, tears, damage, loose bolts or wor ...
Dtc p0700 transmission control system (mil request)
ENGINE (DIAGNOSTICS)(H4DO) > Diagnostic Procedure with Diagnostic Trouble Code (DTC)DTC P0700 TRANSMISSION CONTROL SYSTEM (MIL REQUEST)NOTE:For the diagnostic procedure, refer to CVT section. Basic Diagnostic Procedure">1. OUTLINE OF DIAGNOSISJudge as NG when there is CAN communication w ...
© 2016-2022 Copyright www.sucross.com