Subaru Crosstrek Service Manual: Adjustment
CONTINUOUSLY VARIABLE TRANSMISSION(TR580) > Reduction Driven Gear
ADJUSTMENT
1. Measure the height "A" from the ST upper face to the ball bearing catch surface.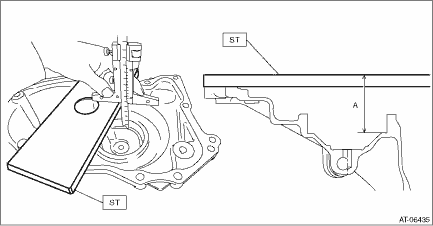 2. Measure the height "B" from the ST to the mating surface of the transmission case.
3. Obtain the thickness of transfer drive gear shim using the following formula to select one to three transfer drive gear shims.
T (mm) = A − B − (0.05 — 0.25)
[T (in) = A − B − (0.002 — 0.01)]
T: Shim thickness
A: Height from the ST upper face to the ball bearing catch surface
B: Height from ST to transmission case mating surface
0.05 — 0.25 mm (0.002 — 0.01 in): Clearance
Transfer drive gear shim

Part No.

Thickness mm (in)

33279AA090

0.3 (0.012)

33279AA100

0.4 (0.016)

33279AA110

0.5 (0.020)
CONTINUOUSLY VARIABLE TRANSMISSION(TR580) > Reduction Driven GearREMOVAL1. Remove the transmission assembly from the vehicle. Automatic Transmission Assembly > REMOVAL">2. Remove the ex ...
Other materials:
Inspection
FUEL INJECTION (FUEL SYSTEMS)(H4DO) > Front Oxygen (A/F) SensorINSPECTION1. Check that the front oxygen (A/F) sensor has no deformation, cracks or other damages.2. Measure the resistance between front oxygen (A/F) sensor terminals.Terminal No.Standard1 and 22.0+0.42 −0.2 ? (when 20&#x00 ...
Dtc b16f3 front sub sensor lh recognition error
AIRBAG SYSTEM (DIAGNOSTICS) > Diagnostic Chart with Trouble CodeDTC B16F3 FRONT SUB SENSOR LH RECOGNITION ERRORDiagnosis start condition:Ignition voltage is 10 V to 16 V.DTC detecting condition:Front sub sensor (LH) is misinstalled.CAUTION:Before performing diagnosis, refer to "CAUTION&rdqu ...
Assembly
MECHANICAL(H4DO) > Cylinder BlockASSEMBLY1. CYLINDER BLOCK1. Apply liquid gasket to the threaded portion of the main gallery plug, and install the main gallery plug to the cylinder block LH.NOTE:Before applying liquid gasket, degrease the thread holes of the cylinder block LH and main gallery plu ...
© 2016-2022 Copyright www.sucross.com